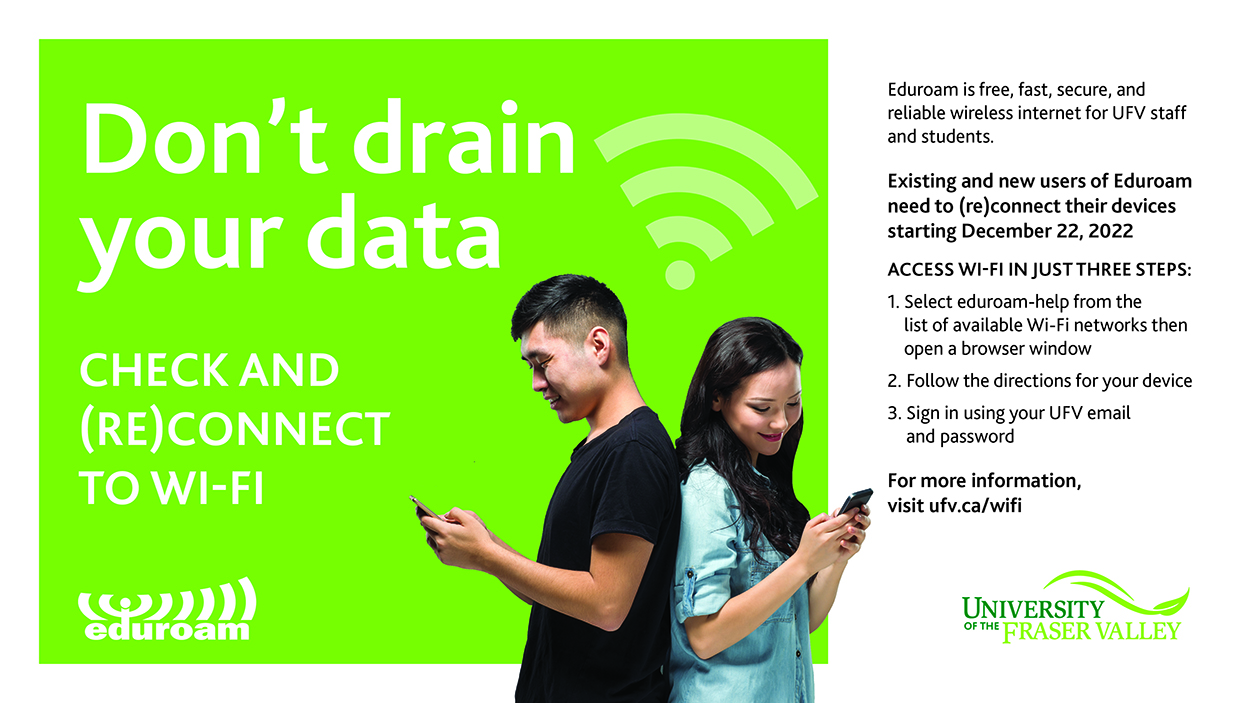 What do I need to know?
Connecting to UFV's free Wi-Fi (Eduroam) changes on Dec 22, 2022.
If you use Eduroam now, you will need to reconnect on, or after, Dec 22, to ensure you are using free wireless instead of your data while on campus.
What do I need to do?
Beginning Dec 22, 2022 select eduroam-help from the list of available Wi-Fi networks
Follow the directions for your device type
Sign in using your UFV email and password 
Why the change?
You will now be able to use the same username and password for nearly all UFV services including Eduroam.
Do I need to reconnect every time I'm on campus?
No. After the first connection (or reconnection for existing users) to Eduroam, employees and students will automatically connect to Eduroam Wi-Fi each time they return to campus.
Who is impacted?
All UFV students and employees who connect to Wi-Fi on campus using a personal device or UFV-issued laptop or mobile device.
What exactly is Eduroam anyway?
Eduroam (Education Roaming) is available in more than 100 countries worldwide and allows students, faculty, staff, and researchers at participating institutions to obtain Wi-Fi across campuses and when visiting other participating institutions.
Need support?
The IT Service Desk is committed to supporting all UFV students and employees with this change. Contact our team by visiting our Service Desk locations, by phone at 604-864-4610, or create a ticket.