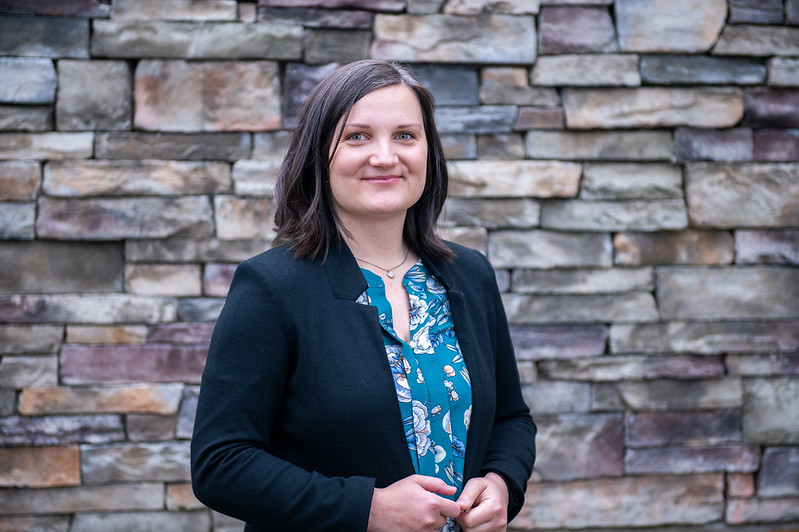 Dr. Judy Larsen of UFV's Upgrading and University Preparation department has always taken the atypical route when it came to teaching mathematics and mathematics education courses. 
Guided by principles of the 'Building Thinking Classrooms' framework, her classes are known to be a little loud, messy, and full of students out of their seats and at whiteboards immersed in discussion and engagement. Collaboration is required, creativity is encouraged, and problem-solving is inevitable.
Even during the pandemic, where the lack of face-to-face student interaction initially compromised Larsen's collaborative, problem-solving style of teaching math, she still found ways to keep her students motivated. She created small break-out rooms at the beginning of Zoom sessions for student-only collaboration and used online meetings as support sessions with small-group problem-solving sessions as opposed to lectures.
It's this ability to be flexible, inventive, and nimble that has made her one of UFV's most effective and engaging professors. Two years after earning the D2L Innovation Award in Teaching and Learning, she has been named the 2022 UFV Teaching Excellence award winner.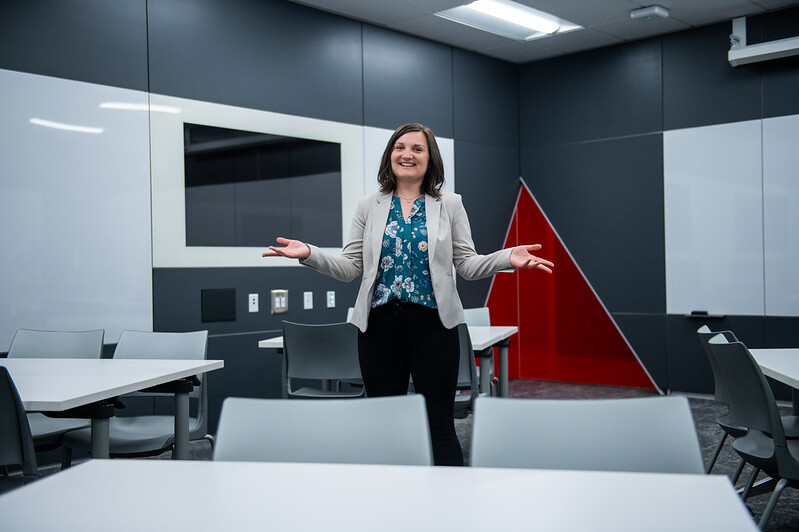 "I feel incredibly honoured to be recognized in this way," says Larsen. "The students who gave me feedback, the colleagues who were willing to collaborate and share their ideas, the teachers who were willing to have me in their classrooms — without these immersive experiences outside of the classroom, I would not have been pushed as hard to make changes and adaptations to my own teaching practice."
Her passion for sharing knowledge in creative ways was instilled early. Larsen has always been intuitive about how people learn, which can be partly attributed to her upbringing, as both her parents were educators. She spent hours watching them teach different things such as martial arts, music, art, and mathematics. Her observations revealed patterns in people's ability to dissect information.
"Something I realized early on was that I needed to empower a learner to understand 'why' something works the way it does because then they could use that as a tool to develop understanding and proceed to act accordingly to that understanding," she says.
"I discovered that I had to give learners space to think."
Larsen has excelled in both mathematics and music and also has a deep-seated interest in learning theories. After earning a bachelor's degree in mathematics from UFV (then UCFV), she received a master's degree from Simon Fraser University's Mathematics Education program, and later a PhD in mathematics education for which she studied a self-organized professional development group of mathematics teachers on social media. She has worked as an associate professor at UFV since 2009, teaching mathematics and mathematics education across several departments as well as professional development for other educators.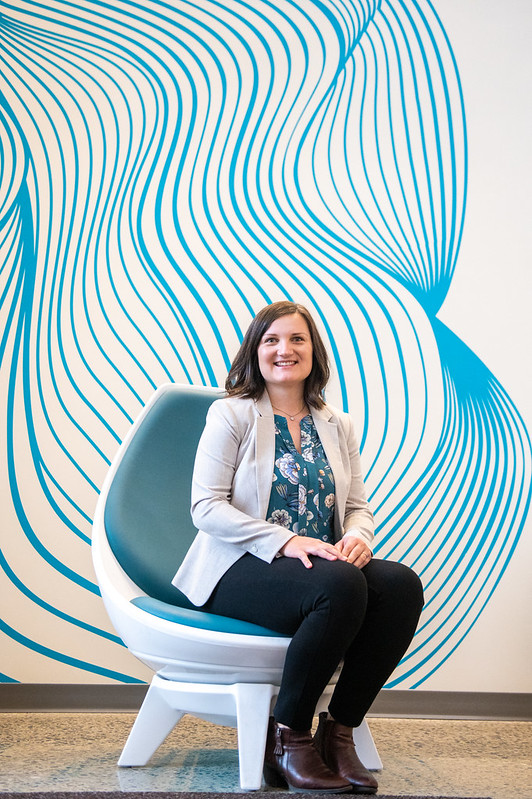 Larsen aims to inspire learners to develop positive views on mathematics and build up their self-efficacy in the discipline. Sometimes, the positive experience students gain in her classroom inspires them to take classes beyond the requirements. One of those former students was Holden Milne, a former dropout who had failed math courses in high school.
"While every professor has an impact on their students. both good and bad, I can't imagine where I would have ended up if not for Judy," said Milne, who ended up pursuing a double major at UFV, in both computer science and mathematics and is now applying to graduate school. "Undoubtedly, my confidence and love of mathematics grew considerably, and that experience has stuck with me."
Her non-traditional style of teaching had several influences. Having studied both mathematics and music at high levels revealed many connections between the two disciplines and how they are taught. Although music is often considered a creative, free-flowing subject and mathematics is more dry and rule-based, Larsen argues that the opposite can be equally true.
"Music can be taught as a subject of absolutes with no ambiguity, and mathematics can be taught as a subject of personal expression where ambiguity is embraced," she contends. "I think it is less about the subject, and more about how it is taught that makes it what it is."
"Most importantly, I think it is so important to place communication at the heart of learning both these subjects."
Larsen aims to continue to adapt and evolve as a teacher. Her goals are to continue to try new approaches while maintaining consistency in her teaching. She is interested in connecting more closely with local Indigenous Elders to learn about the ways in which oral traditions of passing on knowledge in Indigenous culture can be honoured in a mathematics classroom. She also plans to continue implementing teaching approaches that strengthen the sense of community in the classroom, be it traditional or virtual.
"My long-term goals have to do with connecting more with local and global communities of teachers by continuing to be in touch with school teachers about their practices. I find these sites to be a great source of inspiration," Larsen says.
Currently, Larsen is gearing up to teach again this coming Fall after being on maternity leave with her first child over the past year. She says motherhood has been her toughest job yet, but also the most rewarding, and believe it or not, educational. 
As someone who learned how to observe and teach as a child, she is now getting a fresh perspective from her own daughter. Even from as simple a task as eating — her daughter was rejecting being given a spoon of food during feeding, but when left alone with food on her tray, she would feed herself.
Every environment fosters learning. And as usual, Larsen puts the learner first.
"She is so much more cautious and skillful in her movements when she does not think I am there," she says. "This is because if someone is there to do the task for you, why would you try as hard?"