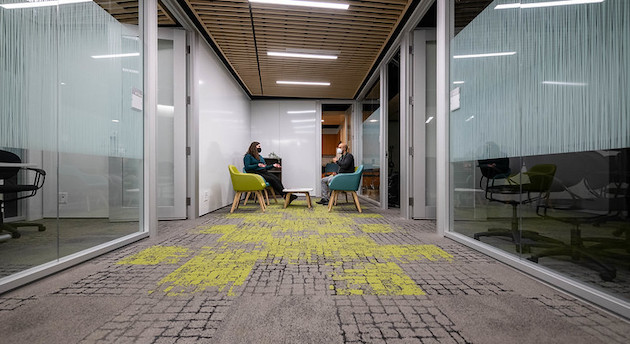 When members of the Campus Planning team, with the help of the UFV Office of Sustainability, envisioned the renovation of B-150 — their new workplace — on the Abbotsford campus, they had two overarching goals:
First, they wanted an open space that was visually inspiring, modern, and encouraged bold ideas and robust collaboration.  
Second, they needed something that would match the Office of Sustainability's namesake. A green space that not only boasted best practices in terms of sustainability, but, along with Building K, would serve as the standard bearer for future renovations and new builds on campus.
"We can't just tell students, 'Hey, sustainability is important' if we're not making our own buildings sustainable and actually walking the walk," says Jennifer Martel, sustainability coordinator on UFV's Campus Planning and Facilities Management team.
On a recent afternoon in early February, members of the UFV Campus Planning and Facilities Management and the Office of Sustainability teams roamed around the space with energy and purpose. B-150's new look had the swagger and ambiance of a progressive Silicon Valley startup. The space is open with shared workstations, the ceilings are exposed and the decorations are minimal. Tiny plants are sporadically placed around the office.
A few employees mapped out a roadmap on the whiteboards in the hallway; others huddled in the lounge area and discussed new initiatives.

"The old offices were compartmentalized," says Sunny Rajwan, a project manager with the UFV Campus Planning team. "You would never know if anybody's actually in there, unless you walked in the office. Now, as we walk in, you can see people moving around. The vibe is up for sure, and the space has completely changed."
To execute the redesign of B-150, the Campus Planning & Facilities Management team, along with Thinkspace Architecture enlisted the expertise of DIRTT Environmental Solutions, a Calgary-based interior modular wall company that uses technology and sustainable construction to create dynamic spaces that are economical and functional. 
"We are noticing a lot of change in post-secondary institutions with just the way things are done and how students interact," says Shelley Young, senior campus designer for UFV Campus Planning. "We are creating completely different spaces than when I originally started here nearly 13 years ago."
This is not the first time UFV has engaged with DIRTT. In 2019, the two sides collaborated on the Building K renewal project on the Abbotsford campus, which is an environmentally friendly flex space that features high ceilings, bright natural lighting, and efficient uses of space.
"Building K is the crown jewel, I would say, out  of all of our buildings," Rajwan says.
Construction started in B-150 during the summer of 2021. On top of designing flexible and smart modern layouts, Thinkspace and DIRTT came through on creating their signature eco-and-technology-friendly spaces. 
For materials, they implemented high-performing materials that meet stringent structural and environmental criteria like recycled denim — yes, old blue jeans — for insulation, aluminium for structural bases, and no additional formaldehyde medium-density fiberboard (MDF). 
The project also focused on waste reduction, including eliminating traditional drywall, which equates to over 1,500 pounds of CO2e that will not be re-released into the air. It also reduced the carbon footprint through using energy reduction technologies, sensor lighting, and LED light bulbs.
"One of the things with DIRTT is that sustainability is really integrated throughout our entire business," says Katelyn Adley, sustainability and environmental specialist at DIRTT Environmental Solutions. "It's really built into our everyday materials, whether that's our paint being no VOC or making sure that there's no off-gassing harmful chemicals going into the insulation.
"We do this for our clients like UFV to ultimately create those healthy and sustainable spaces."
With the new UFV Campus Planning and Facilities Management office (B-150) officially opening in January, the collaborative partnership between DIRTT and UFV is continuing. There is a current large-scale project in Building D on the Abbotsford campus, and tentative plans for future work.
"It has been such a pleasure to work with UFV, which has been an ambitious, enthusiastic and purposeful partner throughout the entire process of each project," says Lisa MacIntosh, interior construction consultant at DIRTT. "All of their projects have very beautiful visions and are very different from each other — so, it's not a cookie cutter style. Each one is unique to that space."
Even if it's slowly but surely, the UFV Sustainability Office is committed to make good on its  pledge to incorporate the UN Sustainable Development Goals (SDGs) into UFV buildings, practices, and the students' values.
"What we're working on right now is making sustainability practices campus-wide more strategic and more collaborative," says Martel. "It's not just one department's job, but trying to bring it into different departments and different faculties and having the students leave here with sustainability in mind and bring it to their career because that's where we'll make the biggest difference."