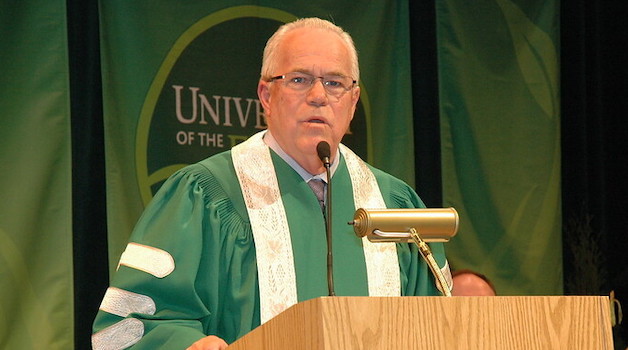 Dr. Skip Bassford, who served as president of UFV from 1998 to 2009, has been named a member of the Order of Canada, in recognition of his leadership in university administration.
During his time as president, Bassford successfully advocated for university status for the former University College of the Fraser Valley (an effort that took eight years of persistent lobbying), secured part of the former Canadian Forces Base for a new Chilliwack campus at Canada Education Park, and established UFV's presence in India, among other initiatives.
"Being appointed to the Order of Canada was unexpected, overwhelming, and humbling," Bassford said. "There is no doubt that much of the reason for my receiving the honour lies in the advances UFV made during my tenure as president. But such advances cannot happen because of one person, and at UFV they happened because of the incredible work and support of my senior team, and the faculty, staff, students, board, and members of the communities of the Fraser Valley. I am very thankful to everyone. UFV is an amazing institution with a great future. I am proud to have played a part in its history."
When Bassford came to UFV in 1998 it was seven years into its university-college phase, during which it developed many of its bachelor's degree programs after starting out as a community college in the 1970s. He quickly saw that the university college was a university in "everything but name" and that the university-college label was hampering the institution's credibility. So he made it his mission to secure university status.
Dr. Joanne MacLean, current UFV president, congratulates Bassford on his appointment to the Order of Canada.
"When Dr. Bassford came to what was then UCFV he recognized its strengths and potential and worked together with many constituent groups to lead a campaign that succeeded in bringing university status. This allowed us to continue to grow and build on these successes. We have a great deal of gratitude and respect for his contributions to our university's development."
You can read more about Dr. Skip Bassford's legacy at UFV here.