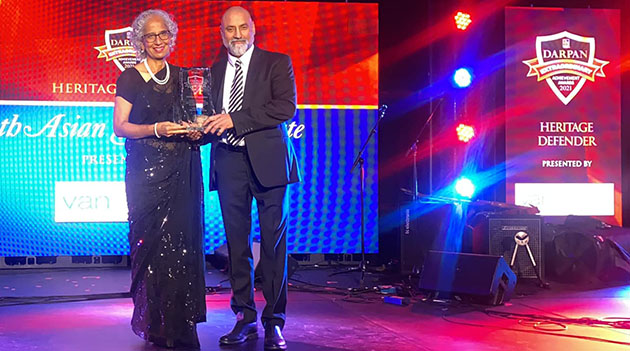 UFV's South Asian Studies Institute (SASI) has been recognized for its contribution to heritage preservation in British Columbia.
SASI received the Heritage Defender award on October 15 at the 11th annual Darpan Extraordinary Achievement Awards. Satwinder Bains, director of SASI, accepted the award on behalf of SASI and the university.
"The Heritage Defender award recognizes the South Asian Studies Institute's work in collecting, preserving, and providing access to South Asian heritage and history," Bains noted. "This award recognizes the work of the South Asian Studies Institute's staff, colleagues, advisors, associates, friends, donors, and partners who we have the good fortune to work with. We are grateful for the recognition of our commitment to build the South Asian Canadian historic and heritage record as we connect across BC and nationally."
A pioneer in the South Asian media (founded in 2004) Darpan magazine focuses on lifestyle and entertainment news and features reflecting the South Asian community in Canada.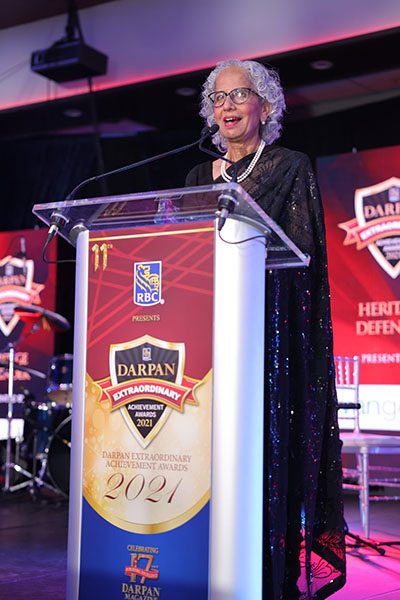 UFV Provost James Mandigo says that the award is welcome recognition for the important work done by SASI.
"The entire UFV community celebrates with SASI their dedication to the preservation and communication of the history of the South Asian community in Canada, and in British Columbia in particular. It's wonderful to see this dedication and hard work being recognized by the greater community as well. Congratulations to all involved."
The Heritage Defender Award honours the extraordinary achievement of a South Asian or organization that is preserving and promoting South Asian heritage and culture.
"The work that SASI does is inspiring and has given further recognition to the South Asian community in Canada," noted Darpan representatives when announcing the award. "The organization's work and success deserves praise and recognition, and this award is our way to acknowledge and applaud the work and passion."
In 2020 SASI,  with support from the Abbotsford Community Foundation, received $1.14 million in funding from the Province of BC to deliver Haq and History: A Punjabi Canadian Legacy Project.
The funding allows SASI to continue work showcasing past and present contributions of the Punjabi community to British Columbia.
The funding is an extension of two phases and six years of combined effort between SASI and the Royal BC Museum. This partnership has been working, researching, collecting, and sharing histories through the Punjabi Canadian Legacy Project (PCLP) — with South Asian Canadian community partners in Golden, Prince George, Vancouver Island, Kelowna, Vancouver, Surrey and Abbotsford, led by the Punjabi Legacies Advisory Committee.
PROVIDING OPPORTUNITIES FOR STUDENTS AND ALUMNI
SASI, known as the Centre for Indo-Canadian Studies until 2016, was founded in 2006, and has provided many opportunities for learning and career development for UFV students during its existence
Sharanjit Kaur Sandhra (BA '06) has grown professionally along with SASI.
She began her association as a research assistant while still a student when UFV was fundraising to launch what was then known as CICS. She helped organize and acted as a student speaker at events such as galas and radiothons to raise awareness and funding to launch the centre.
She was involved in organizing events and exhibits hosted at the Sikh Heritage Museum, which is co-managed by UFV and housed at the Gur Sikh Temple, a national historic site.
Sandhra was also involved in the development of a web portal focused on Canadian Sikh history, which brought the stories of early Sikh settlers onto a digital platform.
All of these experiences reinforced her interest in history, which led to her pursuing a master's degree in Asian Studies at the University of British Columbia immediately after graduation from UFV.
She joined UFV as an auxiliary employee after earning her master's degree and eventually secured employment as a coordinator at SASI.
She has spread her wings professionally since then, teaching as a sessional within the department of Social, Cultural, and Media Studies and the History department.
All this has led to her pursuing her doctorate in history at UBC. Her thesis focuses on museums as places of belonging.
"I was inspired by our management of the Sikh Heritage Museum at the Gur Sikh Temple, or gurdwara, and the fact that we are able to use a living, active historical building as our site."
Her career goal is to create anti-oppressive spaces in museums.
"My work with SASI has allowed me to access those spaces in the most meaningful ways."
She is grateful to SASI and to UFV for the experiences that have shaped her.
"I have experienced every angle within the university: student, employee, alumni, and now sessional instructor. It gives me a holistic understanding of the viewpoints of staff and students."
Other UFV students and alumni, including Ishpreet Singh Anand, Imroze Singh Deol, and Jesse Kaufman have benefited from volunteering and working for SASI during their undergraduate degree studies or after graduation.