UFV and Amity University sign agreement to create new international opportunities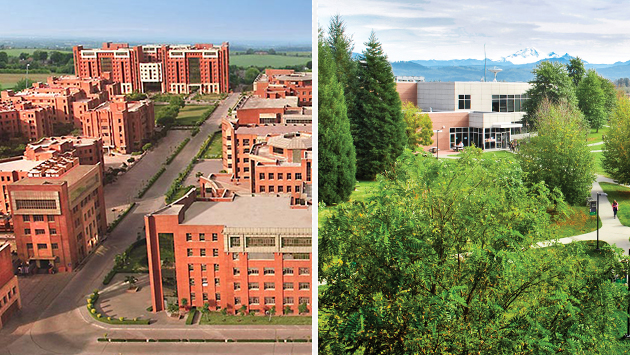 By Jesse Kaufman
Students and faculty can look forward to increased opportunities in South Asia as the University of the Fraser Valley (UFV) has signed a new partnership with one of India's highest-ranked universities.
"I'm pleased for UFV to have a formalized partnership with Amity University," says Dr. Joanne MacLean, President and Vice-Chancellor of UFV. "Partnerships with institutions who share our commitment to excellence are vital as we strive to provide diverse pathways of scholarship for our students, leading to community connection locally and beyond."
The memorandum of understanding (MOU) between Amity University and UFV creates a framework for future cooperation between the two institutions."We at Amity University are proud to make our Canadian footprints through the strategic alliance with University of Fraser Valley, creating global opportunities for Amity students", says Prof. Dr. Gurinder Singh, Group Vice Chancellor of Amity Universities.
Amity University is consistently ranked as one of India's top not-for-profit private universities and is listed among the top universities globally by QS University Rankings and Times Higher Education. The institution has 23 campuses across India and 13 international locations with over 100,000 students enrolled across 250 programs.
"We are excited to be partnering with a university that has a reputation for student success and research excellence", says David McGuire, Associate Vice-President of UFV International. "Amity University's international reach and wide footprint across India has the potential to create many exciting opportunities for both the UFV and Amity community."
The agreement is intended to promote opportunities of common interest. Administrators at both institutions are now working together to explore opportunities for academic collaboration and intercultural understanding.
"The international learning opportunities that may arise from this partnership are wide-ranging," notes McGuire. "We are talking about new faculty and student exchange programs, joint research opportunities, internship programs, and more."