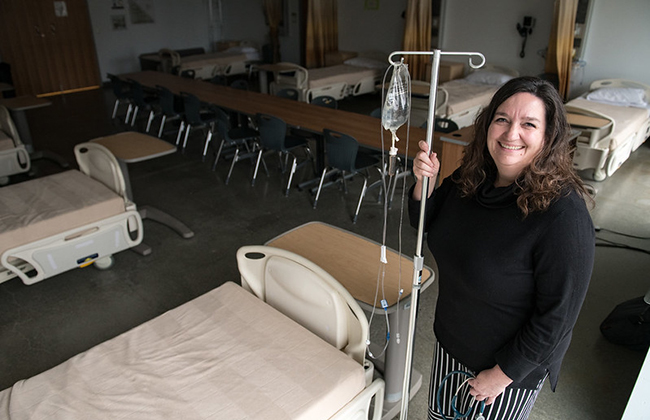 By Gerald Narciso
During a career spanning nearly 30 years as an RN and educator, Cindy Schultz has dedicated herself to improving her profession and advocating for a trauma-informed approach to patient care. In recognition of her experience and leadership, Schultz has been named Associate Dean for the Faculty of Health Sciences. 
As Associate Dean, Schultz will oversee student issues, curriculum and program planning, and community partnerships and placements. Schultz will also collaborate with Dean Alastair Hodges in the management and leadership of the Faculty of Health Sciences. She begins a five-year term on August 1, 2021.
"Cindy has extensive experience in health education as a practitioner, faculty member, and administrator," says Dr. Alastair Hodges, Dean, Faculty of Health Sciences. "I know she will be devoted to the well-being of the Faculty of Health Sciences, students, and to UFV. She will be a relentless advocate for high-quality health sciences education."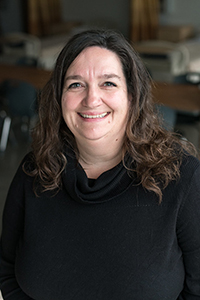 Schultz has been a health educator and faculty member at UFV since 2007, her most recent role being Director, School of Health studies. She is a graduate of UFV programs (BSN degree, Diploma in Nursing, Nursing Management certificate) and has an MA in Leadership (Trinity Western University), and a certificate in Reproductive Health Screening (BC Women's Hospital and Health Centre). She is also a certified practitioner in Sexually Transmitted Infection Management (BCIT). 
Schultz envisions working towards reconciliation with UFV's Indigenous community partners as a key part of her new role.
"I highly value Indigenization in Health Education and, as director, have been able to provide faculty with opportunities to engage in the San' Yas Cultural Safety training," says Schultz. "I am also committed to taking a responsive approach to the Truth and Reconciliation Commission's Calls to Action and the In Plain Sight Report while working with community partners, faculty, and students to better support Indigenous students in our programs."
Schultz will also look closely at Health Science's processes with the goal of creating genuine systemic change focusing on social justice, equity, diversity, and fairness. 
Schultz will also join UFV's Senior Academic Leadership Team. 
"I am excited to start this new role, learn more about the broader functions of the university, and take a more active role in the development of community partnerships," Schultz says. "We are entering into a time of great change for all of our health education programs and I am committed to working with, and supporting, faculty through the transitions we will be experiencing."