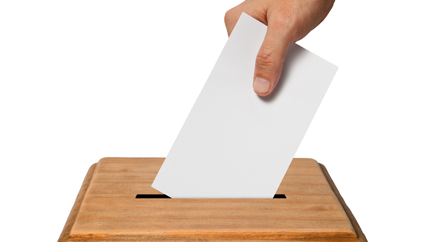 The provincial election campaign is now over and all the votes have been cast. While final result will not be known in some ridings for a couple of weeks due to the need to count the large number of mail-in ballots, one thing is certain: several Fraser Valley candidates have a UFV connection.
In Abbotsford-Mission, MLA Simon Gibson (BC Liberals) was challenged by several candidates, including Mission Mayor Pam Alexis. Gibson was a long-time instructor at UFV before becoming MLA in 2013. Alexis has served on UFV's Mission Community Council and was on the UFV Foundation board in the past.
As of Sunday morning, the winner in Abbotsford-Mission was not yet certain. With almost all of ballot boxes counted, Gibson held a 100-vote lead over Alexis, but more than 8,000 mail ballots have yet to be counted.
In the Abbotsford riding, former mayor  of Abbotsford Bruce Banman, who is a UFV alumnus, won 46.29 percent of  the vote and appears to have sealed victory in the riding for the BC Liberals. (The riding was formerly held by Independent MLA Darryl Plecas, who was a faculty member in the UFV School of Criminology and Criminal Justice before going into politics. Plecas did not run for re-election.)
In Chilliwack, John Martin (BC Liberals) was challenged by, among others, Dan Coulter (NDP) and Tim Cooper (Green). Martin was a long-time criminal justice faculty member at UFV before being elected MLA in 2013. Coulter has a Bachelor of Arts and a welding certificate from UFV. Cooper is a long-time UFV physics professor. As of Sunday morning, Coulter was projected to win in Chilliwack, having garnered 38.4 percent of the vote.
In Chilliwack-Kent, incumbent Laurie Throness (Independent, previously BC Liberals) was challenged by, among others, Kelli Paddon (NDP) and alumnus Jason Lum (Indendent). Throness and Paddon have both taught part-time as sessional faculty at UFV (criminal justice and TASK program, respectively) and Lum was named one of UFV's Top 40 alumni in 2014. Lum took a variety of courses while a student in the early 2000s. In one of the most tightly contested races in this election, it's still too close to call until the mail-in votes are counted. As of Sunday, Paddon was leading Throness with 33.31% of the vote compared to Throness's 32.06%. Lum was third with 24.61% of the votes.
In Langley, Andrew Mercier, a lawyer and former UFV student who is currently a member of the UFV Board of Governors, ran for the NDP. The Canadian Press has declared NDP Mercier the winner over B.C. Liberal Mary Polak, but mail-in ballots have yet to be counted.
And, as he has for several federal, provincial, and municipal elections, political science professor Hamish Telford kept busy fielding multiple media calls and offering his insight and analysis. He estimates that he was interviewed around 65 times for this election, appearing in newspapers, on radio, and on television. Telford also taught two of the alumni candidates, Dan Coulter and Andrew Mercier, in his political science classes when they were students.
(Sources: local media, Linked In, candidates' websites. Apologies to any candidates with UFV connections that we were not aware of. Feel free to let us know if we've missed anyone. Email anne.russell@ufv.ca).