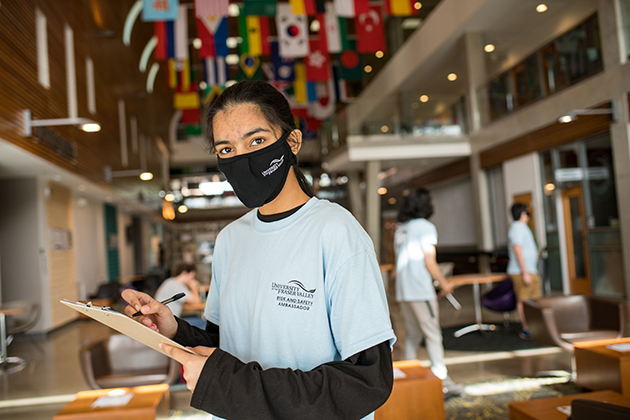 A new crew is dedicated to helping ensure a safe campus experience in the wake of COVID-19.
Wearing blue t-shirts with 'Be Smart, Keep 2 Meters Apart' and equipped with clipboards and two-way radios, UFV's Risk and Safety Ambassadors are educating and encouraging safety habits and physical distancing on UFV campuses.
"They're focusing on areas around campus where people gather, and communicating safety practices if social distancing and other protocols aren't being met," explains UFV Security Coordinator Chris Humphries.
Ambassadors not only record and report statistics, incidents, suggestions and concerns to the Risk and Safety Department, but also guide students to study spaces and other student-related resources.
For more information about UFV's Risk and Safety Ambassador Program, email Chris.Humphries@ufv.ca
To review UFV's latest COVID-19 updates and resources, visit www.ufv.ca/coronavirus.
See more photos of he Ambassadors in action here.