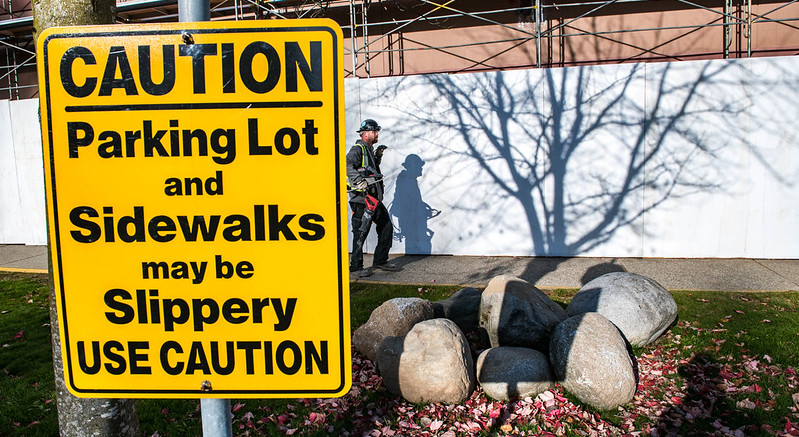 Remote learning might mean classrooms are empty, but it's business as (almost) usual for UFV's ongoing Building Renewal Project.
Construction crews are still on site, drastically improving Building A-East. Contracted workers are adhering to COVID-19 rules, allowing only two people at a time in the office trailer, which is washed multiple times a day. Workers are also wearing personal protective equipment when working closely in common areas.
"Currently we're right on schedule," says project manager Nicolle Bourget, adding empty halls and classrooms are allowing for extra improvements. Polished floors are coming to the third and fourth floors of Building A as linoleum is removed. Refreshed lighting and updated paint, replacing salmon-coloured walls are also on tap.
UFV facilities professionals are sanitizing all areas once improvements are complete.
Anticipatory purchasing means the Building Renewal project isn't facing any supply chain issues, with measurement-sensitive items such as windows on standby with suppliers. The project team is continuing to monitor the situation.
Recent updates and plans
Phase I scaffolding removed and Phase II scaffolding installed
Phase II demolition on Building A north side began April 22
Hoarding around the Building A being removed in coming weeks
Classrooms to repainted over summer period
Landscaping around A-East begins early June
D Building renovations scheduled to begin in September.