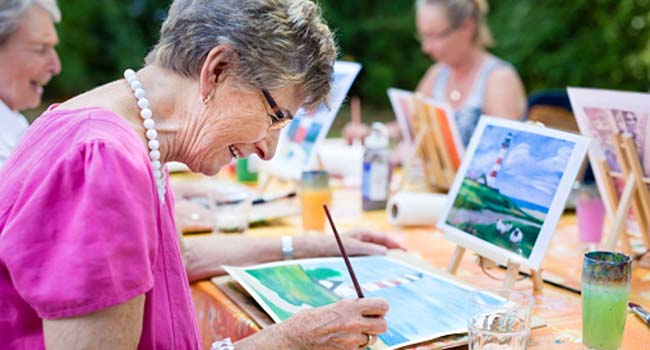 Often, it's the small moments that make work meaningful.
Watching her 86-year-old client splash around in the wave pool was exactly that kind of a moment for former Recreation Coordinator Lori Teske. "She just enjoyed every minute," Lori recalls. "It was really touching."
Providing engaging experiences to residents in long-term care takes careful coordination, but carries its own rewards.
"At the end of the day," Lori says, "nothing beats seeing the joy in a senior's face when they try something for the first time. Having the opportunity to expand their world and improve their quality of life is hugely rewarding."
Not only do therapeutic coordinators and activity assistants make a positive difference in people's lives, they are also in high demand. In 2014, over 6 million Canadians were aged 65 or older, representing 15.6 percent of Canada's population.
By 2030 — a decade away — seniors will number over 9.5 million and make up 23 percent of Canadians.
The Activity Assistant program
To help care for the influx of older adults in the Fraser Valley, UFV Continuing Education has launched an Activity Assistant certificate, slated to start in September 2019. The program is designed with the needs of employed health-care workers in mind: it is offered part-time with 120 hours online and 110 hours face-to-face on evenings and weekends. To round out classroom learning, two practicums provide students with hands-on opportunities to apply what they learn.
"Front-line staff developed the curriculum," says Kiira Poerschke, Recreation Therapist and Interprofessional Educator with Baycrest Health Sciences, who teaches UFV's Activity Assistant program with Lori. "We're in the trenches. We're basing what we teach on real life. And not only that: we've also incorporated the latest research. We're up-to-date on what's needed."
Fostering autonomy and enabling potential
Elder care is an evolving field: seniors now benefit from better health care, longer lifespans, and more residential options. They can remain home with care, or they can choose an independent or assisted living community.
"Increasingly, we understand the need to maintain people's choices and independence," Kiira says. "It's a natural bias of the able-bodied to look at vulnerable populations and think that we need to do everything for them. But by giving them choice, we help maintain their autonomy and keep them fully engaged."
Kiira's own ninety-year-old grandma is in long-term care. "She participated in a painting class, and she is creating magnificent artwork," Kiira says. "I look at it and think, 'where does this come from?' Grandma grew up in a developing country in South America. She had five kids. There were not many opportunities for creative arts, especially at that time. But now that she's given the chance, she is developing a talent that no one knew she had.
"Family members often underestimate what their loved ones are capable of doing," Kiira points out. "My grandma's art took me by surprise, even though I am in the field and know that people can have meaningful experiences until their very last moments."
"Every journey is purposeful" Lori adds, "and there's value in every life story. You develop a connection with your residents. And you enjoy the wisdom and humour that they bring day to day."
More than just a job
Both Lori and Kiira see empathy, passion for the role, humour, and resourcefulness as fundamental skills for activity assistants. "It's key to find out what's interesting and meaningful to your residents," Lori says, "and adapt to fit their physical and cognitive abilities."
Both Lori and Kiira also agree that working with seniors is not just a job, but a vocation. "We are part of their final years and we can have a huge impact by providing memories and experiences that they may never have had in their entire lives," says Kiira. "We bring families together. And we are there for their last moments. I am grateful to be part of that and for what I am able to give."
Learn more about UFV's Activity Assistant certificate
WHEN MEMORY FADES AWAY
Visitors may find it difficult to have conversations with loved ones who suffer from dementia as their cognitive and verbal abilities decline. Activity Assistant Instructor Lori Teske has the following tips to enhance your visit.
Speak slowly and simply to help them keep up with you.
Give them time to respond.
Create a memory box, based on your loved one's interests. If they loved gardening, include objects that are related, like seed packets, gardening gloves, tools, and so on. Go through the box with them and take time to feel and talk about every object.
Look at old photo albums or postcards together.
Play or sing songs that they like. Lori recalls a 102-year-old blind patient whose combative behaviour abated when care aides started playing favourite hymns during morning routine.
Just be there with and for them. A loving physical presence can be soothing, even when words fail.