Students and alumni of UFV's Engineering Physics Diploma in Mechatronics program were at the university's BCTECH Summit booth this week showing off their involvement in some impressive creations.
The RoboWeeder — an autonomous, sustainable, and eco-friendly arm-on-wheels that finds and blasts weeds with microwaves — was one of the projects on display in the Vancouver Conference Centre alongside tech industry leaders and other schools.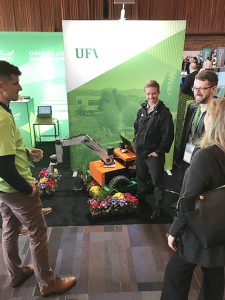 Students Nelson Spies, Brett Russell, Dave Friesen, and Hans-Georg Worms presented the prototype to visitors of the summit. Resulting from UFV's partnership with Eleos Robotics, the RoboWeeder's goal is to make herbicides obsolete.
A mechanical lung that mimics the motion of a patient's breathing, known as a lung phantom, was also at the UFV booth.
Mechatronics student Siyuan Li was there to represent her colleagues and their involvement with the lung project, along with UFV alumnus Dallas Visagie.
This prototype, half the size of a human lung is also the result of collaboration. In the latest joint initiative between UFV and BC Cancer, Li and her group are working on the next iteration of the lung phantom, refining the model.
When the lung is ready, its predictive powers of lung movement will help cancer treatment focus radiation on a patient's tumour. This will allow higher doses with less damage to healthy surrounding tissues.
These past and present students showed visitors of BCTECH Summit 2019 that UFV is partnered with industry to contribute innovative, game-changing solutions to some of the world's most important problems.