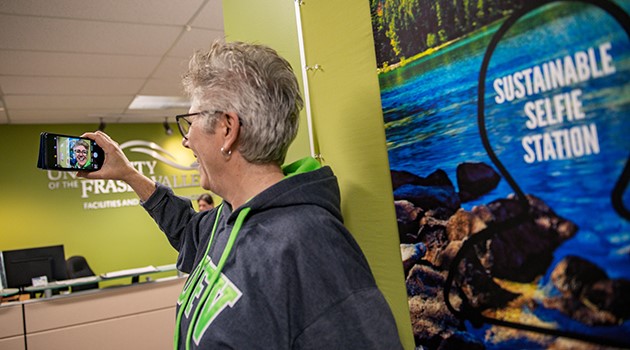 Feeling that February chill? Well, it's time to layer up, UFV.
To help raise awareness about climate change everyone is invited to wear sweaters on campus next week, Feb. 11–15, for UFV's third annual Sweater Week.
In most spaces throughout the Abbotsford and Chilliwack campuses temperatures will be reduced two degrees to lower carbon emissions. (Note: temperatures will not be lowered below 20 C) We can all get cozy with an extra layer, feel good about conserving energy, and potentially win a prize.
"Big change starts with small steps," says President Joanne MacLean. "Everyone can do their part in environmental sustainability by just adding an extra layer of clothing instead of turning up the heat when temperatures drop. I'm proud to see how committed UFV students, staff, and faculty are to creating positive change for the future of our community and our planet."
A selfie contest will run all week for participants to share images of themselves wearing sweaters for a chance at prizes.
"By supporting habits that help curb climate change, UFV is using its position as a community leader to set a great example — and we're all having a little fun along the way," says CFO and VP Administration Betty Poettcker.
People are encouraged to submit sweater-selfies taken at @SustainableUFV selfie stations or anywhere on campus via social media or email.
To enter the contest, follow and mention @SustainableUFV on Instagram, Facebook and Twitter including #UFVsweaterweek2019. Or if you don't want to use social media, email contest photo submissions to sustainability@ufv.ca.
The themes of each day are:
Anything Goes Monday
Retro Tuesday
Stripes Wednesday
Valentine's Thursday
Hoodie Friday
There will be prizes announced for each daily category, as well as one for Employee Group Submission and a grand prize for Most Dedicated.
Volunteers on both campuses will help guide contest participants and provide information about reducing carbon emissions.
As a bonus way to reduce UFV's energy use and keep classmates and colleagues comfortable during cold weather, please close all windows and doors when leaving classrooms, offices or work areas on campus.
For more information please email sustainability@ufv.ca.