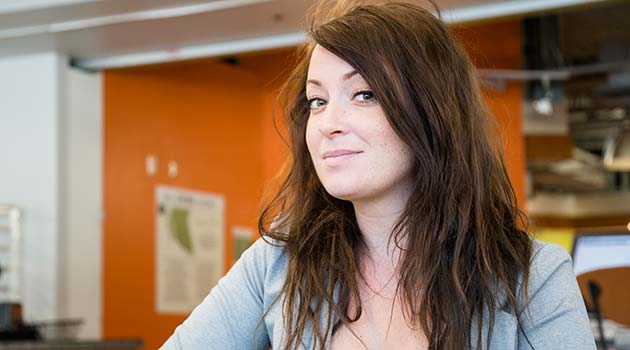 A Program Evaluation graduate certificate can open up diverse opportunities for bachelor's degree holders who work in health, education, social services, public administration, or non-profit management.
According to UFV sociology professor Katherine Watson, program evaluators are needed to assess the relevance, sustainability, impact, and effectiveness of government programs.
"In Canada," Watson says, "program evaluation is a process that is mandatory for all government departments and agencies to ensure that taxpayers' money is put to good use."
But even when program evaluation is not compulsory, program coordinators, like Abbotsford Community Services' Lia Bishop, often find the process highly rewarding and valuable.
The Diversity Education program that Bishop coordinates delivers community projects around identity, race, sexuality, and social equity, including Abbotsford's Local Immigration Partnership and the Human Dignity Coalition. On multiple occasions, she has worked with program evaluation specialists, who collected feedback from program participants, measured their involvement, compared desired and actual program outcomes, and suggested changes based on the information they gathered.
"When you are so immersed in your work, it is easy to lose track of your larger goals," Bishop says. "That's why the work of program evaluators is highly valuable. Program evaluation plays a huge part in finding out how we are doing.
"Evaluators provide an impartial lens that is essential in helping to find out if we are meeting our objectives and impacting our local environment," Bishop says. "They help us see where we are excelling, and where we've stepped off the path. As contract holders, we have a responsibility to government bodies and funders to ensure our projects are meeting targets and core objectives. Evaluation acts as an effective accountability tool."
Program evaluation reports can wield real usefulness. "We can use a program evaluation report as a communication tool that is unbiased to communicate ideas and thoughts, suggest changes, or secure more funding," Bishop points out.
"I've seen first hand how program evaluation can have an effect not only on practice, but also on policy by building knowledge and awareness," she adds.
Bishop illustrates the point: "When I went to high school, there were no policies protecting LGBT youth. Now, there is movement and systemic change to equip staff and teachers with the tools they need to create more inclusive schools. This cultural shift is a positive thing for families, students, and society as a whole."
Launching a career in Program Evaluation
According to Bishop, program evaluation is a great way to make a difference if you are interested in research, policy, and community.
And it is a profession where job satisfaction is high: Payscale reports that program evaluators enjoy the variety afforded by working on a different project every few weeks or months.
If program evaluation sounds like a great career move, you can make the transition without leaving your day job. "UFV offers a part-time Program Evaluation graduate certificate that is delivered entirely online," Watson says. "This format is optimal for working professionals. It allows them to earn a credential while working in their field."
The program consists of four courses offered over two years for a total of 15 credits. It is designed to provide students with the knowledge and skills required to evaluate projects, policies, programs, regulations, and other initiatives in order to determine their relevance, success, and cost-effectiveness.
"The program is hands-on and focuses on building competency," Watson says. "We want to train evaluators who have the practical knowledge to apply tried-and-true evaluation methods to make evidence-based judgments."
UFV's Program Evaluation graduate certificate program is recognized by the Canadian Evaluation Society and a member of the Consortium of Universities for Evaluation Education.
Graduates have the option to receive 12 credits at Royal Roads University towards earning a Master of Arts in Interdisciplinary Studies.
"We're accepting applications for the Program Evaluation graduate certificate now," Watson says. "You have until April 30 to apply to start in September 2019."