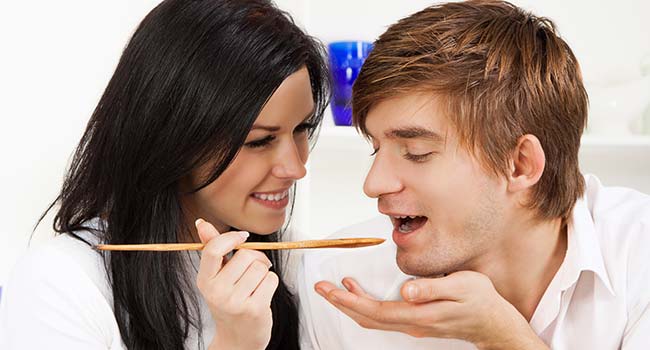 Bored with the boxes of chocolate and candlelit dinners that are the norm for Valentine lovers everywhere?  Forget the roses and instead turn up the heat with your significant other in the professional kitchen at the Trades and Technology Centre in Chilliwack.
This year, UFV is offering a Valentine Baking class , where you can learn the art of flourless chocolate cake, coconut panna cotta, and cream puffs with a variety of fillings. Bring containers so you can take your sweet treats with you to share the love at home and at work.
Or how about a Romantic Night Out cooking class?
Prepare a three-course meal together, starting with a poppy seed goat cheese and roasted beet salad, followed by an entrée of seared chicken breast with sage compound butter, glazed vegetables, and sautéed wild mushrooms. Finish with a classic dessert: vanilla bean crème brûlée. Sit down in Rivers Dining Room to share your culinary masterpiece, sip a local chardonnay or Japanese whiskey, and gaze deeply into each other's eyes.
You may prefer an even more stimulating proposition: sign up for a Wonderful World of Wine class with Certified Wine Steward Sam Schechter at the Abbotsford campus. The class runs over ten sessions from February to April, and includes a field trip to a local vineyard. This is a great opportunity to taste some excellent wines, explore flavour profiles, and learn about wines of the world. Make sure you and your date are at least 19, because you'll need ID to participate.
And for something that's really off the beaten path, sign up for an Open Wood Shop class , where you will build a custom piece together in the well-equipped wood shop at the Trades and Technology Centre in Chilliwack. Your instructor will work closely with you on a project of your choice and provide you with an introduction to hand and power tools. This is your chance to create a unique couple's heirloom that will endure through the years.
Ready to sign up or want to ask questions? Phone 604-504-7441 or toll free 1-888-504-7441.