The BC Lions are hoping they have an Olympic-sized head start when roaring into Sunday's CFL playoff game against the Hamilton Tiger-Cats.
UFV Kinesiology professor Roger Friesen has been with the Lions every step of the way this season, joining their Kamloops training camp as the team's performance psychology consultant.
Often referred to as sports psychologist, Friesen's role is simple: help people perform their best when it matters most.
He draws on nearly 30 years of experience with sports associations ranging from Cycling Canada to the Canadian Olympic Team, but also professionals such as paramedics, stock brokers, musicians, and more.
"The approach I bring benefits anyone in performance mode," Friesen explains.
"Whether it's the CFL, or Cycling Canada or opera singer or surgeon, anyone who's in performance mode deals with stress and pressure; so my profession just helps people become equipped with the tools skills and resources needed to manage pressure, so we can consistently perform at our best."
Lions kicker Ty Long battled vertigo to the point of vomiting to start this season, one in which his contract expires.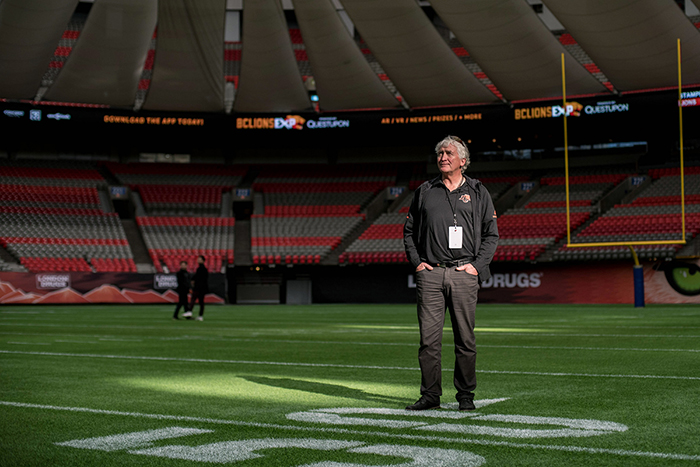 Friesen helped him through.
"I can't do anything about the vertigo, but if I can focus for a few seconds on the things I can control good things will happen. It gets loud, but when you go back in your steps it gets quiet, you don't hear the noise anymore. Roger's been huge on helping me focus when everything rises, treating every kick the same," he says.
"I've learned I can handle things better than I thought. There's more to my game that I didn't know was there, but he's shown me."
Rolly Lumbala, an 11-year fullback and unquestioned leader among Lion players, says Friesen's become a "sought-after guy" by the Lions' 60-plus players.
"Understanding how important your mental fitness is has done tremendous things for me," he says.
"Roger's been awesome."
Friesen insists he gets at least as much out of his job as the players do.
"It's stretched me, it's challenged me, I've grown and learned things I've never imagined. It's combined three things I've always loved: working with high-performance individuals, working with people, and allowing me to travel all over the world," he says.
"It's been awesome."
The BC Lions open their 2018 playoffs in Hamilton at 10 am Sunday, November 11.