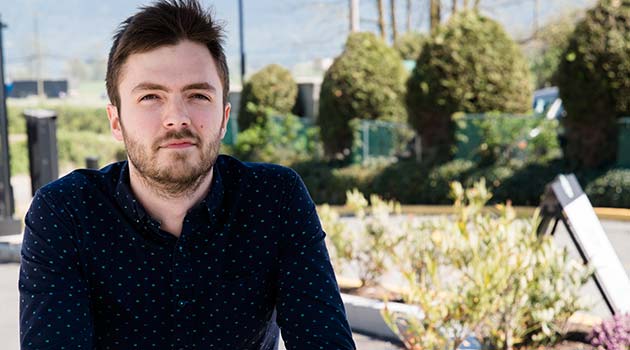 Nikolas Croker first heard about nursing foot care while studying to become a licensed practical nurse (LPN).
"My first reaction was to wonder why anyone would need a foot care nurse," Nikolas recalls. "But the more I learned, the more I realized how critical this type of care is."
In older adults, diabetes causes nerve damage in the extremities that leads to reduced pain sensation. As a result, injuries can go unnoticed and lead to serious infections. "Amputations happen more than they should," Nikolas says. "But with regular foot care, they are completely preventable."
A commitment to one-on-one care
After becoming a LPN in February 2017, Nikolas landed a job to visit seniors in their home and administer medications. "I became a nurse because I am passionate about providing one-on-one care," Nikolas says. "But in a five-hour day assisting with medications, I see 15 to 20 clients."
Nikolas saw nursing foot care as a way to increase time with each patient. "Appointments run between 45 minutes to an hour," he says, "so I can provide quality one-on-one care."
Searching for a nursing foot care course
However, when Nikolas went online to research foot care training options, he did not find any local programs. "Even a class in Vancouver was too far to fit into my schedule," he says.
After six months, Nikolas discovered UFV Continuing Education's Nursing Foot Care course in an online search. The course had an in-depth focus on foot care, and also provided an introduction to starting a business, which was an added bonus.
"To go to UFV was a no-brainer," Nikolas says. "Having the theory portion online was super-convenient. I only had to drive to attend the three-day practicum in Surrey."
Nikolas stresses the benefit of a clinical practicum: "Of all the courses I looked at, this was the best one," he says. "The practicum was a huge asset. I would not have been confident to practise foot care without it."
A growing need for foot care nurses
His practicum took the form of a free clinic, offered at the Senior Come Share Society. It was an opportunity for newly minted foot care nurses to practice their skills. And it also revealed the need for this type of service, with a waitlist of people wanting to get foot care.
"There were so many people — not just residents, but also people from the community — who wanted us to work on their feet," Nikolas says.
As the population ages, the need for foot care services is rising: Diabetes Canada reports that diabetes prevalence is expected to grow from 3.3 million people in 2015 to 5 million in 2025.
"Typically, older adults with diabetes need to see a foot care professional every four to six weeks," Nikolas says. "They can go to a clinic or office, but many have mobility issues. So offering foot care in their homes is more convenient."
Launching a nursing foot care business
To prepare for launching his business, Nikolas connected with Futurpreneur, a national organization that mentors young entrepreneurs. "They have been super-helpful," Nikolas says.
"They are helping me develop a business plan. And when my plan is done, I can apply for a $15,000 start-up loan that is interest-free for one year."
His mobile foot care business — called Mountain Foot Care — is expected to launch in fall 2018. Contact Nikolas on Instagram and Facebook @mountainfootcare, by email at mountainfootcare@gmail.com, or phone 778-244-8483.
Meanwhile, Nikolas plans to stay current on all things foot care: his Continuing Education instructors are key members of B.C. Footcare Nurses and run a networking and mentoring meetings in Surrey. And the Canadian Association of Foot Care Nurses (CAFCN) also holds an annual meeting in the summer.
"Networking is a big part of business success," Nikolas notes. "Standards in foot care are constantly evolving, so staying in touch with other professionals will be very valuable."