Garry Fehr appointed AVP of Research, Engagement, and Graduate Studies at UFV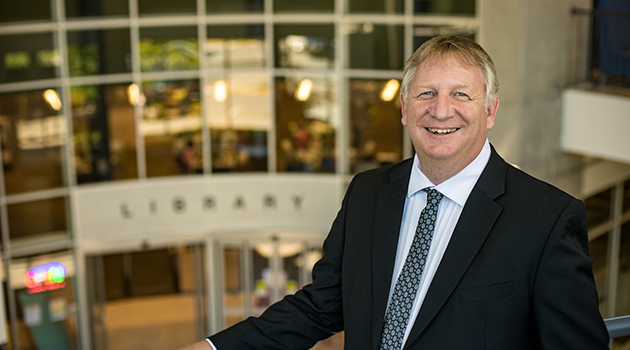 Dr. Garry Fehr has been appointed Associate Vice-President, Research, Engagement, and Graduate Studies at the University of the Fraser Valley.
Fehr is currently the Director of the UFV Agriculture Centre of Excellence and an Associate Professor in the Department of Geography and the Environment. He begins his new role on Sept. 1, 2018.
Fehr takes the reins from outgoing AVP Adrienne Chan, who assumed the position in 2013 after serving as acting AVP beginning in the fall of 2012.
"Garry has been an excellent ambassador for UFV with the broader community, including the local, provincial, and federal governments, as well as industry," says VP Academic and Provost Eric Davis.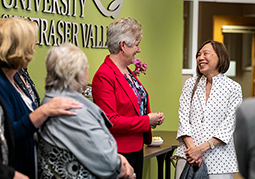 "Adrienne has been a remarkable leader, helping to solidify UFV's research profile while supporting faculty and students as they actively engage research and scholarship that is critical to our communities, both locally and internationally. We are very confident Garry will build on this foundation going forward."
The central tasks of this position include leading and supporting the development of research activities among faculty and students, leveraging research and scholarship to foster community engagement with the region, and fostering the integration of teaching and research. Fehr will also be responsible for increasing overall research funding, increasing awareness of funding opportunities for faculty members and helping them to procure it, supporting and developing graduate programs, and promoting faculty and student research, scholarship, and graduate program accomplishments.
A leader in building strong relationships through networking and engagement, Fehr is already exploring expanded opportunities for staff and faculty. Over the past decade, he has worked with a diverse cross-section of faculty while supervising and mentoring dozens of UFV students through all stages of research.
"I'm very excited to build on the great accomplishments of Adrienne, and Yvon Dandurand before her. The research office has an incredible team already in place," he says.
"My approach will focus on building capacity across the university for new opportunities in research and graduate studies, which I think fits perfectly with our commitment to lifelong learning. UFV is in an excellent position for expanded research across multiple disciplines, and I look forward to contributing to the great work ahead."
Fehr earned a PhD in Geography from the University of Guelph in 2008 and BA in Geography from Thompson Rivers University in 2003.
He has coordinated the BC Agriculture and Seafood Research, Education and Extension Network for the past two years and served as Interim Director of Research Services and Industry Liaison at UFV for the 2013 fall semester. He has been a Senior Associate of the South Asian Studies Institute since 2007. He was Director of the Global Development Institute from 2010-14 and Program Coordinator of the Bachelor of Arts in Global Development Studies from 2012-15.