Student researchers recognized at awards night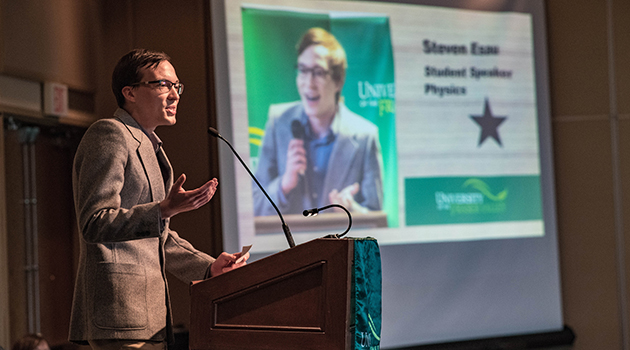 Providing undergraduate students with research opportunities is one of UFV's defining strengths. That strength was celebrated on May 24 as top student researchers were honoured at the annual Undergraduate Research Excellence awards.
A total of 41 students were recognized at the event, receiving more than $25,000 worth of research awards, the most in the 14-year history of the event.
The theme for the night was Scrabble.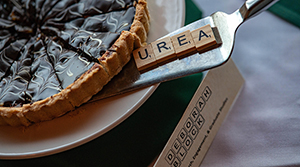 "Anyone who has played Scrabble knows the value of hitting the triple word score. Education's triple word score includes knowledge, skills, and experience. Students who participate in research activities hit the triple word score every time," said Dr. Adrienne Chan, AVP Research, Engagement, and Graduate Studies.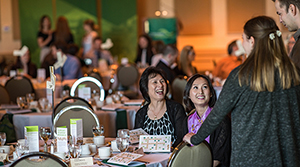 UFV President Joanne MacLean praised the student researchers for their curiosity and willingness to embrace research opportunities.
"At many universities, research in the manner that you've experienced is for graduate students. And I am so pleased that UFV stands apart by extending the opportunity to students at the undergraduate level to learn through doing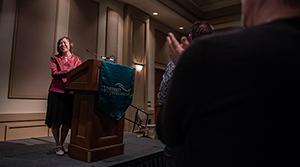 research, to engage their curiosity and creativity to asking and answering their own questions."
Bachelor of Science student Vivienne Beard, who graduates this June and is headed to medical school, spoke on behalf of the students about the value of research.
"Simply put, research opens doors of opportunity. I am so grateful for the research opportunities that UFV provides, unique opportunities that I would not have had at any other university. UFV has not only taught me what research really means, but it has shaped me as a person. I went from being a student afraid to ask questions in class to presenting my work at conferences. I went from not knowing why research was interesting, to being a strong advocate for its transformational power.
"I've had the pleasure of attending three UFV Student Research Days, and my favourite part is asking fellow students about their work, because when I look at research at UFV, I see a beautiful spectrum of diversity. I see psychology students asking questions about human thought and behaviour. I see kinesiology students using their skills practically to help others. I see chemistry, English, physics, geography students and everyone in between invested in and excited about their work.
"I believe that this diversity of research is one of the many things that make research at UFV so unbeatable. Even though, I'll be the first to admit, that I don't always quite understand all the complexities of other students' projects, what I do understand is their passion, their quest for answers, and their incredible hard work."
Several students were recognized as Canada Graduate Scholarships award winners (worth $17,500) as they prepare to leave UFV to continue their graduate studies.
Travis Gingerich — Geography (SFU) Faculty Researcher: Olav Lian
Miranda Monosky — Geography (Memorial University) Faculty Supervisors: Terah Sportel, Garry Fehr
Mohit Bassi — Psychology (UBC/SFU) Faculty Supervisor: Andrea Hughes
Several students received NSRERC Undergraduate Student Research Awards (worth $4,500).
These national awards are meant to stimulate interest in research in the natural sciences and engineering. They allow students to gain valuable research experience that complements their studies by working full time for a term with a nationally recognized UFV faculty researcher.
Veronica Kobes, Biology; Faculty Researcher: Lucy Lee
Taylor Boyd, Biology; Faculty Researcher: Lucy Lee
Zachary Sentell, Chemistry; Faculty Researcher: Noham Weinberg
Darryl Wilson, Chemistry; Faculty Researcher: Noham Weinberg
Tam Le, Chemistry; Faculty Researcher: Linus Chiang
McKenzie Braley, Computer Information Systems; Faculty Researcher: Gabriel Murray
Travis Gingerich, Geography; Faculty Researcher: Olav Lian
Nicole Schurink, Physics; Faculty Researcher: Lin Long
Yeeun Shin, Physics; Faculty Researcher: Lin Long
Japteshwar Gill, Physics; Faculty Researcher: Lin Long
Steven Esau, Physics; Faculty Researcher: Derek Harnett
Community Service Research Award
Paige Bogaerts, Darien Francis, Ishaval Gill, Bradley Hildenbrandt, Geordi Legault, Gillian Mann, Christina Owen, Caitlin Parray, Mika Sevcik, Matt Walz, Neil Webb, Ian Wilson.
Indigenous Research Award
Miranda Monosky – Geography
Industry Liaison Research Award
Nicole Schurink — Physics
College of Arts Awards
Kelsey Block — Anthropology
Michael McCarthy — Communications
Grant Morley — Criminology & Criminal Justice
Aiden Gibbons — Economics
Rachel Bodnariuc — English
Travis Gingerich — Geography & the Environment
Josie Dyck — Global Development Studies
Kelly Miles-Haire — History
John Luzia — Philosophy
Melissa Ly — Political Science
Shanna Penner, Sociology
Faculty of Health Sciences awards
Mia Harries — Kinesiology
Karen Pickford — Nursing
Faculty of Professional Studies awards
Kim Abram — Adult Education
Jared Wiebe, Shea Horton, Zihan Tian — Business
McKenzie Braley — Computer Information Systems
Michelle Appleton, Danielle Briggs, Randi Cork, Lea Jovanovic — Social Work
Faculty of Science
Dib Gill — Biology
Danika Cheater — Chemistry
Steven Esau — Physics