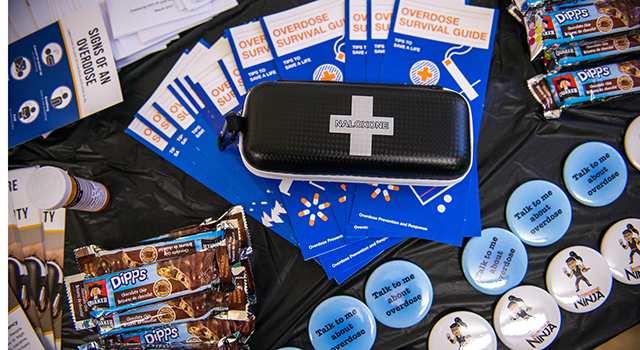 Another unique opportunity to receive potentially life-saving medication comes to UFV March 5.
The student-driven harm reduction initiative provides Naloxone training and access to free take-home Naloxone (THN) kits at sessions in Abbotsford and Chilliwack.
The Opioid and Naloxone Awareness Day event – also featuring interactive educational booths – is driven by UFV Social Work students like Amanda Ellsworth, who says there's never been a more important time to educate and equip her peers.
"Obviously people hear about fentanyl, but it's never easy to know when an overdose will happen," says Ellsworth, a second-year student from Fort McMurray.
"Students are coming out of high schools, or from international schools, who have never been trained on recognizing the signs of an opioid overdose. If they see one happening, and have a Naloxone kit with training, we might save lives."
The awareness initiative builds on Naloxone training and distribution practices already engaged through UFV's Coast Capital Savings Peer Resource and Leadership Centre, plus guidance from UFV Nursing faculty member Bethany Jeal, who has a long history of engagement with harm reduction initiatives dating back to her time as a nurse working at Vancouver's Insite supervised injection facility.
"In addition to providing important training and resources, we hope this event helps to decrease some of the stigma around drug use," Jeal says.
The general public is welcome to attend the training, but only UFV students, faculty and staff will have access to THN kits if needed. Drop-ins are welcome, but RSVPs via mycampuslife.ufv.ca are appreciated.
Naloxone awareness and training sessions run Monday, March 5 at 11:30am and 1:30pm in B121 on the Abbotsford campus, 11:30am in A0014 on the Chilliwack Canada Education Park campus, and 1:30pm in Room 1001 on the Chilliwack Trades and Technology campus.
Training is conducted by trained UFV Nursing students, with their time being applied to practicum hours.
For more information, contact PRLC coordinator Ashley Ward-Hall at Ashley.WardHall@ufv.ca or thn@ufv.ca.