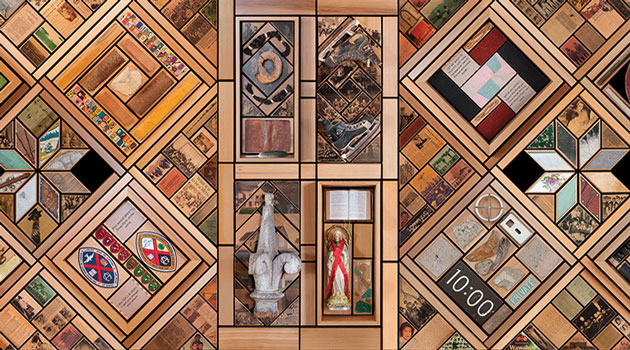 When is a blanket not a blanket? When it is a large-scale art installation, inspired by a woven Aboriginal blanket and designed to tell the story of the painful legacy of Canada's residential school system.
The Witness Blanket, created by master carver and Kwagiulth artist Carey Newman (Ha-yalth-kingeme), is coming to the University of the Fraser Valley for a two-month exhibition.
The opening ceremony is scheduled for Wed, Sept 13 at 7 pm in Evered Hall in the Student Union Building on the Abbotsford campus. The ceremony will include special recognition of a UFV employee who attended a residential school in the 1960s, as well as speakers Grand Chief Clarence "Kat" Pennier and his wife, educator Nancy Pennier. Admission is free and the public is welcome.
The Witness Blanket installation incorporates images from the residential school era, as well as items reclaimed from, and actual pieces of, residential schools, churches, government buildings and traditional structures from across Canada.
The Witness Blanket is designed to act as a witness to the residential school experience, telling the stories of those affected through art, and traveling so that the stories can be shared across Canada.
"It is a very powerful and moving piece of art that captures the profound feelings of grief, anger, and injustice associated with the residential school system and its legacy," says Shirley Hardman, UFV senior advisor on Indigenous Affairs. "As part of our participation in the reconciliation process, we are bringing the Witness Blanket exhibit to UFV so that members of our community can experience the many stories of those who were so adversely affected by the forcible removal and attempted indoctrination of children from First Nations communities."
Hardman encourages everyone to experience and learn from the exhibition, and says it will be particularly moving for Indigenous families whose relatives experienced the residential school system.
"We know this could be a profound and emotional experience for them, and we will have attendants on hand to support visitors if they are overcome by emotion."
The Witness Blanket is monumental in scale. Consisting of 13 wood panels, it is more than eight feet tall and 40 feet long. Over 800 objects were collected for the installation, including braids of hair, a Métis sash, a weather-beaten shoe, the door to the infirmary of St. Michael's Residential School in Alert Bay, and a stone from a community greenhouse in Inuvik.
As part of its two-month visit to UFV (until November 8), the university will present a three-part lecture series on Wednesdays, starting Oct 4.
Shelagh Rogers CBC broadcast journalist and an honorary witness for the Truth and Reconciliation Commission of Canada, will speak on Oct 4.
Cecelia Reekie, a cultural presenter, member of the Haisla Nation, and reunited adoptee, will speak on Oct 11.
Chief Robert Joseph, Hereditary Chief of the Gwawaenuk First Nation and an Ambassador for Reconciliation Canada, will speak Oct 25.
The three speakers will focus on reconciliation and the steps ahead as Canada moves forward while changing the way we understand our history. There will also be a closing ceremony on November 8 at 6 pm.
UFV students are taking part in an interdisciplinary course based on the Witness Blanket and Canada's Truth and Reconciliation Commission. As part of the course, they will serve as attendants for the exhibit and learn from local Stó:lō knowledge keepers about the practice and protocols of hosting and ceremony. The course will be team-taught by local knowledge keepers in tandem with faculty members from Visual Arts, Social Work, and Teacher Education.
"This project is an example of the UFV community coming together and demonstrating in an active way our commitment to indigenization and the reconciliation process," says Hardman.
For more information on the Witness Blanket visit www.witnessblanket.ca. The Witness Blanket exhibit will be housed in Evered Hall in the Student Union Building on the Abbotsford campus. It will be available for viewing Mondays to Thursdays, 10 am–7 pm; Fridays, 10 am–5pm; Saturdays 11 am–3 pm; and Sundays (only in October) 1–3 pm. Admission is free, but pay parking is in effect at UFV.