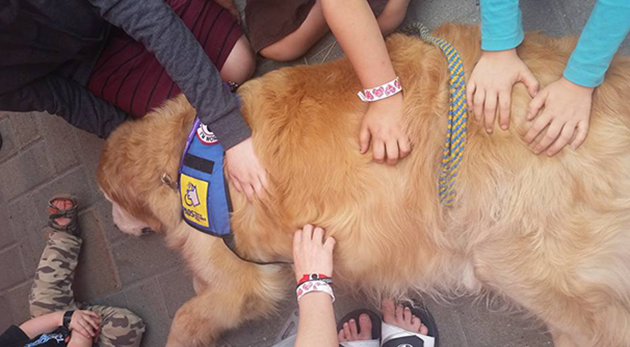 Many people at UFV are familiar with Mac the therapy dog.
He accompanies UFV counsellor Dawn Holt to work and is available to be present in her office during most sessions with students.
As the world's first registered therapy dog working at a university, Mac is no stranger to helping people cope with stress.
Now Mac (with Holt tagging along), has been deployed to the BC Interior for a week, to offer his counselling support to evacuees, staff and firefighters.
Mac and Holt are members of the BC Disaster Psych Services team.
"I am registered as a clinician with the Health Emergency Management BC, which manages the team I am on: Provincial Disaster Psychosocial Services (DPS) team. Mac is also registered and is one of three Pacific Assistance Dogs Society dogs on the team (two are with police victim services)."
They left on the weekend for a seven-day deployment in Kamloops, where they are working at the evacuation centre.
"Mac and I will do whatever we are asked to do, from handing out water and food to doing mental health assessments," says Holt. "They are long, hot and demanding work-shifts, but are nothing when compared to what the evacuees and first responders are coping with.  Mac and I are so honoured to be team members and offer whatever help we can give. Mac and I have interacted with at least 100 people per day and kids are really enjoying his gentle, loving soul," reports Holt.
After his first shift, Mac had this to report:
"MomBoss (Holt) and I heard so many stories of fear, heartache and incredible resiliency. The children who had to leave their beloved pets behind cried into my fur, the lady with diabetes leaned on me as we walked to the nurses tent, the volunteers who took a break to ruffle my fur and take some breaths. Thank you for trusting your hearts to be safe in my paws."
To retain his status as a registered therapy dog, Mac is re-certified with Holt every year through the Pacific Assistance Dogs Society. Now 13, Mac will continue his counselling duties for a couple of years before retiring, at which point he'll become Holt's pet.