Giving PAWS to new drop-in program featuring Mac the therapy dog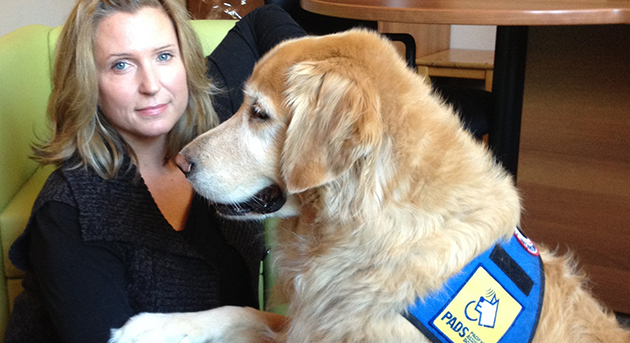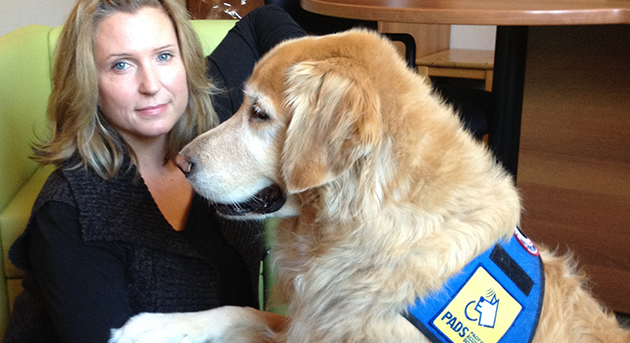 UFV's new PAWS for a Break program featuring Mac the golden retriever is proving to be more than a pet project for Dawn Holt, head of counselling for UFV Student Services
"It's not about talking to me, it's usually about unconditional friendliness from Mac and giving students a chance to leave their worries at the door," says Holt, who implemented the PAWS program this month following a successful pilot project in October, allowing 15-minute drop-in sessions with Mac between 1 and 3 pm Tuesdays at UFV's Abbotsford campus. More than 80 per cent of the drop-in spots are filled on a typical Tuesday.
And on Thursday, Nov 28, in the Alumni Hall on the Abbotsford campus, Mac will be joined on campus by several assistant dogs in training. Students can join Mac and the UFV Counselling department in partnership with PADS (Pacific Assistance Dogs Society) to meet their dogs. This is a chance for students to take a break, relax, and have some fun with the puppies while helping to socialize them in a busy environment.
As the world's first registered therapy dog working at a university, according to Holt (similar programs are gaining popularity at universities across Canada, including at Dalhousie and McGill), Mac is no stranger to helping students cope with post-secondary stress. He's been available for inclusion with Holt's regular counselling sessions since 2007, and is reaching a whole new group through the PAWS program.
"Students can let their worries and anxiety go for those 15 minutes," Holt says.
"And for those people who have anxiety about being around dogs, Mac is a perfect dog to help with that, too. He's the safest dog you could ever hope to be around."
To retain his status as a registered therapy dog, Mac is re-certified with Dawn every year through the Pacific Assistance Dogs Society. Now nine, Mac will continue his counselling duties for a couple of years before retiring, at which point he'll become Holt's pet.
"Mac's a very special dog; he gives a lot of stress release and friendship throughout campus."
The PAWS for a Break program is slated to run for the remainder of this semester, with continuation depending on its success.
More information on spending 15 minutes with Mac through the PAWS for a Break program, contact Holt at 604-854-4528 (local 4183), or drop by room B214.