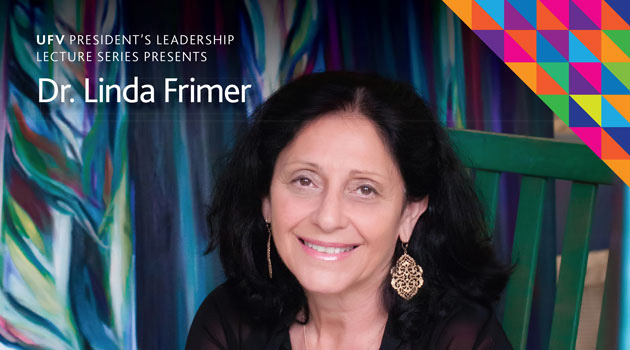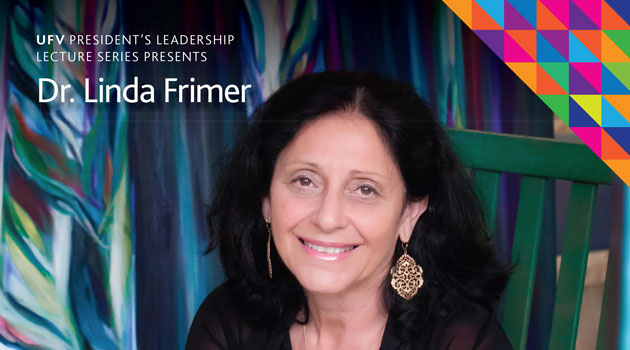 West coast artist and 2017 UFV honorary degree recipient Linda Frimer returns to UFV on Monday, March 13 for the President's Leadership Lecture Series.
Her presentation will take place at 4:30 pm in the Abbotsford campus lecture theatre (B101). This lecture is co-sponsored by the UFV Alumni Association and UFV. The public is welcome to this free event.
Frimer will present on the topic of Evoking Creativity, and share an approach to artistic expression that encourages healing and reconciliation.
Frimer has been sharing her art to heal, help worthy causes, and reconcile nature and culture for more than 35 years.
She will discuss the inspiration of our life's journey, and how it colours our unique experience and fuels creativity and the desire to help and to heal.
The Vancouver artist sees art as a form of reconciliation, and creativity as a means of expressing the love residing in humanity. She has shared her art to help worthy causes and to reconcile nature and culture for more than 35 years.
"Ever since I was a little girl I would find healing in nature. I would go to the forest where I was released from pain through the beauty of nature," she recalls. "I see the tree as a metaphor for human creativity. We grow and change through the creative process and take down the barriers between us through sharing stories and expression. We all need space to grow into our own unique self."
In recognition of her artistic, humanitarian, and philanthropic contributions and accomplishments, Frimer received an honorary Doctor of Letters degree from the University of the Fraser Valley on June 2, 2016.
Find out more about Linda Frimer here.
The President's Leadership Lecture Series was established  in 2011 with the intent to bring to UFV inspirational leaders to share their ideas with us, challenge us, and perhaps even provoke us. In keeping with UFV's strategic goals, these lectures focus on issues relevant to social, cultural, economic, and environmentally responsible development in the Fraser Valley.