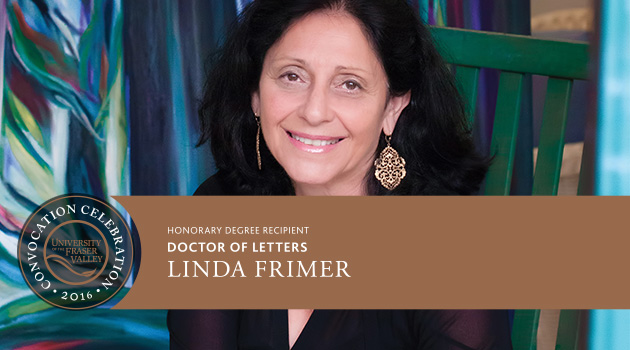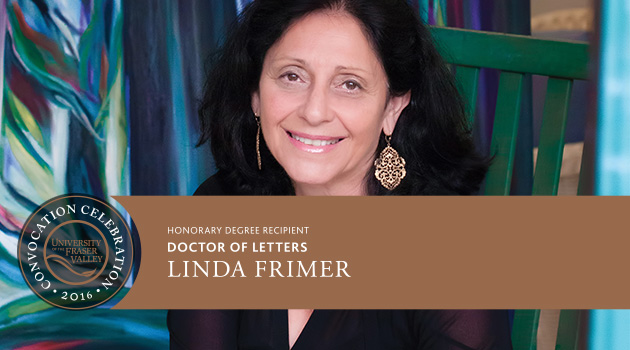 For Linda Frimer, art is a form of reconciliation, and creativity a means of expressing the love within us all.
The Vancouver artist has been sharing her art to heal, help worthy causes, and reconcile nature and culture for more than 35 years.
In recognition of her artistic, humanitarian, and philanthropic contributions and accomplishments, Frimer will receive an honorary Doctor of Letters degree from the University of the Fraser Valley at its June 2 afternoon Convocation ceremony in Abbotsford.
Born in the wilderness town of Wells, BC, and raised in Prince George, Frimer connected with nature early on, and it informed her artistic development from the start.
"I always had a pencil in hand and was allowed to roam the forest freely as a young girl," she recalls.
Born a few years after World War II ended, she heard the adults in her Jewish family whispering about the devastation of the Holocaust. Even decades before the war, her family faced hatred and expulsion. Her grandfather fled Romania during the pogroms in the late 19th century, becoming one of the "footwalkers" roaming Europe, then following the Grand Trunk Railroad in Canada to its terminus in Prince George, where he became a merchant.
"I was too young to understand it all, but I knew something very bad had happened. I was a highly sensitive child, and absorbed the pain and anguish that others were carrying. I turned to nature for healing and reconciliation. I would enter the forest with a sense of awe and wonder. It's what unites all people. When we suddenly see a magical tree or a sunset that leaves us breathless, that wonder belongs to everyone! I've always wanted to bring together the worlds of nature and culture. They are all connected, and recognizing that inter-connectedness facilitates healing."
Compelled by a desire to reflect the pain of her people and work towards healing, she created many works of art examining this theme. She co-founded the Gesher (Hebrew for Bridge) Holocaust Project, a multidisciplinary group that helped Holocaust survivors and their children express their traumatic experiences through art, words, and therapy.
Reflecting on the project during a talk she gave to the Canadian Counselling and Psychotherapy Association, she noted that creative expression is a critical component to healing.
"I've done work that reflects my culture and my people and their plight, but I don't want to get caught in the dark places. I want to share reverence between all cultures. I want to bring light and love to the forefront."
From an early age, Frimer felt an affinity for the Aboriginal people she grew up near in rural BC.
Her connection became more formalized when she befriended the Cree artist George Littlechild (also a UFV honorary degree recipient). The two felt an immediate connection through their interest in incorporating family and history into their art and their use of vibrant colours, and collaborated together to produce art shows, presented in venues such as the Canadian Consulate in Los Angeles, and produced a book titled In Honour of Our Grandmothers.
"Both of our peoples have been through so much that we felt a real connection. Growing up, I felt a real sense of 'otherness' and not fitting in. Many Aboriginal people can relate to that too."
Her affinity to nature has led to her supporting many environmental causes. Her paintings for the Wilderness Committee, the Trans-Canada Trail, the Raincoast Environmental Foundation, and other groups have raised funds for wilderness preservation, and also raised awareness of threatened forests and ecosystems.
"I love my environmental work because I know that's where I can make a difference. I am committed to helping to preserve endangered species and ecosystems as well as helping people at risk or in crisis."
Frimer spent her 20s raising her children and developing her artistic skills by finding mentors to study with. She didn't begin her formal training until she was 33, when her last child started school. She then finished a four-year degree at Emily Carr in three years, receiving credit for her prior learning and artistic work.
More than three decades into her career, Frimer's paintings and murals can be found in galleries, synagogues, churches, retirement centres, hospitals, hospices, schools, transition houses, corporate offices, and public and private collections.
She has been very prolific but says it's been easy to create so much art because she feels she is merely a vessel for a strong creative force.
"It's like joy coming through me, rather than me making it happen."
Frimer has received many accolades, honours, and titles, but says her favourite title is "Grandma." She and her husband Michael raised their blended family of eight children and now enjoy the company of nine grandchildren.
"It's profoundly important, especially for the Jewish people, who have lost so much, to rebuild the family we've lost and share reverence with others who have had similar losses."
Still, receiving an honorary doctorate is a special distinction for her.
"My parents would have been extremely proud, and I know that my husband and children will be too. You can't really declare yourself a successful artist — you need affirmation from the outside. I'm so grateful that my messages have been heard, and that the care that I've put into bringing more culture, nature, creativity, expression, healing, and light into the world through the gift of art is being honoured."
For more about Linda and her art, see lindafrimer.ca.
-30-