Comfy colleagues warming to UFV blanket initiative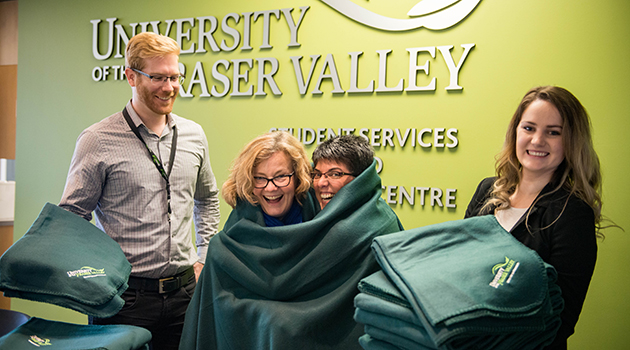 UFV employees are warming up to a new Facilities program that provides fleece blankets to freezing offices.
Spearheaded by Energy Manager Blair McFarlane, the branded blanket initiative has already fallen into the laps of about 70 people.
The goal is to ensure employees enjoy a comfortable work space, while reducing the use of space heaters – constant sources of blown electrical breakers in addition to wreaking havoc on heating, ventilation, and air conditioning (HVAC) systems.
"We can often tell where space heaters are being used because they adversely affect the HVAC system," says McFarlane, explaining that space heaters warm the air above the temperature set point, so the HVAC system often goes into cooling mode, sending cold air throughout the area and dropping temperatures in neighbouring offices.
"People want to be comfortable when they come to work, and this is where the blanket program comes into play."
Only about 25 of the UFV-green blankets are left, but if demand continues Facilities will look at extending the program through next winter as well. The blankets are considered UFV property, and are not to be taken off campus. If you'd like to learn more, email Blair.McFarlane@ufv.ca.