WorldatWork, a non-profit human resources association and compensation authority, has awarded UFV its Seal of Distinction for 2017. UFV is one of 160 organizations honored.
North American educational organizations receiving the seal include MIT; Yale; University of California, Davis; NC State University; Arizona State University; and Johns Hopkins University to name a few. UFV joins the University of Calgary, the Co-operators, and the Saskatchewan Research Council as the Canadian recipients. A full list is available here.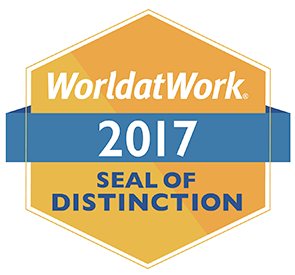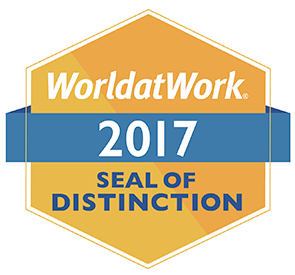 The Seal of Distinction is earned by organizations providing an exemplary workplace experience leading to business success. The award criteria evaluates the total compensation and benefits portfolio with weight given to: health and wellness programs, retirement benefits, performance management, recognition, development opportunities, benefits for dependents, cultural initiatives and community involvement, financial wellness, workplace flexibility, and the overall employee experience.
"UFV is honoured to be recognized by WorldatWork," said Dianne Hicks, director of human resources and staff relations at UFV. "We know our people are the key to UFV's success and strongly believe that solid compensation and exemplary benefits help create a balanced life and assist our employees in continuing to make UFV an outstanding organization and a contributor to our community."
Since 2012, the Seal of Distinction has been awarded to companies meeting high standards of workplace programs, policies, and practices.
"We congratulate all of the recipients of the 2017 Seal of Distinction. These recipients represent a wide variety of industries from across the U.S. and Canada, showing that the total rewards model applies to employers and employees everywhere," stated Anne C. Ruddy, president and CEO of WorldatWork. "This year, we saw the highest number of applicants since the Seal of Distinction was created. I'm confident that this means an increasing number of companies are recognizing the importance of a workplace environment that benefits both the employer and employee."
For more information please contact:
Dave Pinton, 604.702.2606, dave.pinton@ufv.ca
Emily McGee, 202-315-5514, emily.mcgee@worldatwork.org