Each year before the Welcome Back Barbecue for employees, the UFV Advancement team hosts a Lifesaver campaign kickoff to thank current donors and challenge them to inspire other employees to donate. The Lifesaver campaign gives employees a way to support UFV students who are going through an emergency.
This year, UFV student and mother-of-three Randi Seguin, a two-time recipient of the UFV Staff and Faculty Annual Bursary, shared her story at the kickoff.
At the age of 14, Seguin had already become pregnant and had struggled with abuse. She was classified as high-risk, and living in foster care. Hope for a better life seemed out of reach.
"I had a tumultuous upbringing that was rife with addiction and heartache. I got married at 18 and had two more children. When my marriage dissolved two years ago, it became clear to me that I would need to support my daughters and that minimum wage was not going to cut it."
Now, at age 26, she is successful UFV student, determined to change the world for the better by working in the field of social work and youth probation.
Today she says, "I have come a long way from being an angry, misguided youth and a teenage parent who nobody thought would graduate. This is my second year in university. I currently hold a cumulative grade point average of 3.81 and during this past semester at UFV, my grade point average was 4.0.
"I am a success story. In my everyday life I make a considerable effort to avoid using labels or making generalizations, but I have been fortunate. I know full well that there are many children and youth who, by no fault of their own, will grow up and not be able to overcome such challenges. My experiences have manifested themselves in many ways, but one of those ways is determination.
"I am determined to provide a safe home environment for my children, to be a positive role model by furthering my education despite adversity, and to beat the odds of teenage parents and former youth in care. When I say beat the odds, I mean both personally and by assisting youth who are currently facing their own struggles. I will do this by entering the fields of social work and youth probation.
"I would like to sincerely thank everyone who has helped me along my journey. Winning this awards truly made a positive impact in my and my children's lives and we thank you for your generosity."
There are a variety of ways to donate to the Lifesaver campaign: by one-time gift, regular payroll deduction, special events like the dunk tank, or supporting special offers by the UFV Bookstore.
"We all support students through our day-to-day work activity at UFV — it's the core of our reason for being here," notes advancement officer Sheila Reimer, who is administering the campaign. "The Lifesaver campaign gives employees the chance to take things a step further and support students who find themselves in a situation requiring emergency funding."
Last year, the Lifesaver campaign raised $28,000 for to help students like Randi. If more employees supported the program through payroll donations or other methods, more students could receive help.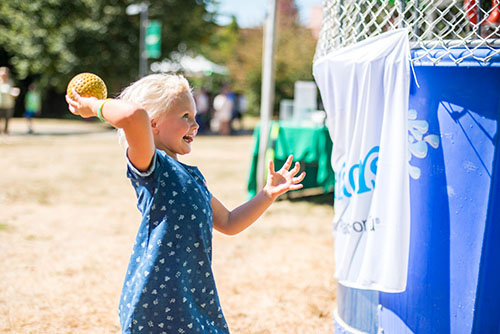 "The lifesaver campaign provides a way for me to help support students who find themselves with an unexpected financial need," says Jill Smith, recently retired from the President's Office. "I believe contributing to the fund is a way to assist these students at a critical time and in a significant way. The assistance provides vital support to student learning and success. With their financial needs handled, these students are able to pursue their university education and to focus on their future goals."
You probably noticed the dunk tank at this year's Welcome Back Barbecue for employees. It made quite a splash and provided a fun focal point for the event. But its purpose goes beyond dunking your fellow employees. The dunk tank is also a fundraiser for the Lifesaver campaign.
"This year the dunk tank raised a total of $349.05 in cash — but the good news is that we had an anonymous matching donation, which doubles the total raised to $698.10," says Reimer. Once again   The Co-operators, Vandeven Financial Solutions (Shawna Vandeven) sponsored the cost of the dunk tank, which means that all proceeds went to the campaign.
Reimer notes that one goal of the campaign this year is to increase the number of employees who give through regular payroll deductions.
"It's easy to sign up for payroll deduction, and it's a convenient way to meet your philanthropic goals without having to get out your cheque book or credit card," she says.
If you would rather see your gift support a particular UFV scholarship or initiative, this can be arranged through the Lifesaver campaign as well.
"Some employees have a special UFV cause they like to support, so we incorporate that option into the Lifesaver campaign."
Director of Advancement David Leis notes that having a successful employee fundraising campaign also helps UFV make the case for supporting our university in the community.
"If we can show potential donors that our employees believe in supporting our students through donations, that goes a long way in building additional community support," he says.
To find out more about the campaign, or sign up to donate, contact Sheila Reimer at sheila.reimer@ufv.ca or local 4513.