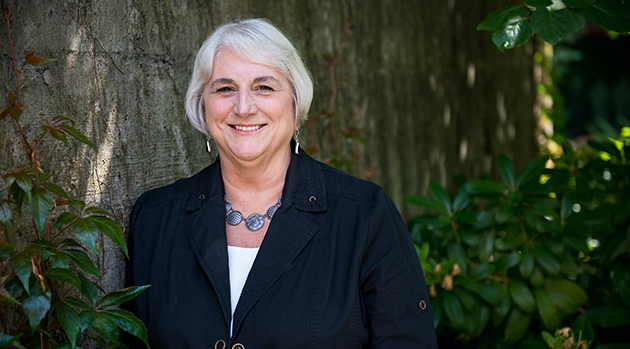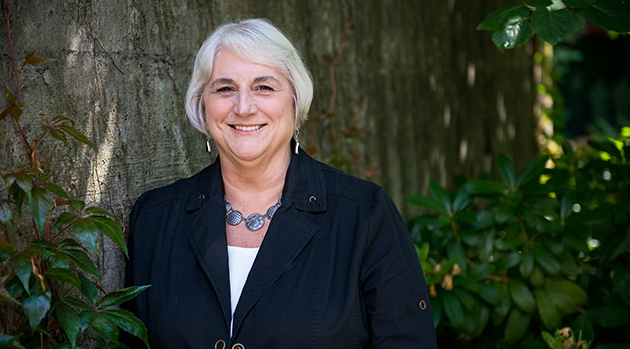 Jill Smith, inaugural recipient of the UFV Staff Excellence Award, has served as a capable and indispensable executive assistant to three UFV presidents (and one acting president). She's witnessed first-hand and played a vital role in UFV's transition through three phases: regional college, degree-granting university college, and nationally and internationally engaged university.
She became the Executive Assistant to the President in 1990, one of only two people to ever fill that role at UFV.
"Jill should be seen as the gold standard for the Staff Excellence Award… and the standard for others who aspire to greatness at our beloved university," notes President Mark Evered.
After 29 years of dedication to UFV, Jill is retiring this summer.
All UFV employees are invited to come say goodbye at a special tea on Wed, June 15 at 3 pm at Friesen House (residence of Dr. Mark and Maureen Evered).
For almost three decades, Jill has demonstrated diplomacy, decorum, compassion, leadership, and excellence in her professional role. She is also known as a welcoming and friendly face on campus and as someone with a great sense of humour.
Jill's journey exemplifies and parallels the UFV success story, and in a direct and significant way has contributed to UFV's success.
As governments, boards, presidents and other staff changed and the institution evolved, Jill provided a steadfast continuity of knowledge, history, and service. Her job requires a breadth and depth of understanding of the university, its relationships with all levels of government and the communities we serve.
Her work is complex, diverse and unrelenting. It involves dealing with people at times through delicate and difficult conversations, and she handles this with extraordinary grace, unflappability, and solution-focused responses that have de-escalated innumerable situations, saving the university significant reputational damage.
When she was starting out after graduating from Office Careers (now Applied Business Tech) in 1987, Jill had the choice of a three-month contract at the prison or a six-month one at the college. She chose UFV and has been here ever since.
She took the Office Careers program in 1987 after several years away from the workforce as a stay-at-home mom.
"I was home with my two children until they needed my paycheque more than they needed me at home full-time. When I went to find a job again, computers were everywhere and I knew I needed to get upgrading. Then when I was in the Office Careers program, they asked for a volunteer to cover the college switchboard at lunchtime, and I thought that wherever I ended up would likely have a switchboard and it would be a good skill to have, so I volunteered."
That was the beginning of a decades-long career at UFV.
At one point, her job title was word processor operator and she operated the only computer on the Chilliwack campus.
"My colleagues were still using electronic memory typewriters, and once they got computers too, there was lots of opportunity to help, " Jill recalls. "If Marlys Southwell, who was the president's assistant before me, needed help with a special software feature, she would call out 'where's the kid?' and I'd go help her."
When she was working as a program assistant in Trades, she decided she needed to learn to weld so that she could better advise students. So she did!
After three years at the college, the job of executive assistant to the president came up and, with some trepidation, she decided to go for it.
"I had decided against it, and then two days before the deadline, I threw my hat in the ring. I figured if I made it to the interview process it would be a good learning experience."
She did her homework, asking questions of incumbent Marlys Southwell, who was retiring, and to her surprise made it to the stage where she was being interviewed solo by then-president Peter Jones.
"I was reticent because of the heavy responsibility that comes with the job, but Peter assured me that there was nothing I could do that we couldn't  fix together if it went wrong."
Her predecessor Marlys gave her two pieces of advice: keep the paperwork moving, and learn to say no.
"I was pretty good at the first, but still have trouble with the second!"
She took the job and was soon immersed in the heady times associated with the push for university-college status in 1990 and through the summer of 1991, and then the exciting process of building UFV's first bachelor's degree programs, as Fraser Valley College became the University College of the Fraser Valley.
"Those were amazing times, with some very dramatic ups and downs. We were involved in something that created a new entity and it was so exciting and ultimately so successful."
Then, a decade later, came the push for university status, ultimately successful in 2008 after a long campaign.
"When you go through times of growth, and campaigning for change, it's very bonding for the internal community, and also strengthens your external community ties," Jill says. "I still remember being in a packed-to-the-brim forum in the Ramada when the government was seeking input on post-secondary planning."
Having worked for three presidents (Peter Jones, Skip Bassford, and Mark Evered, as well as one year with Dick Bate as acting president), Jill adjusted to the styles of a new boss several times.
"I was always anxious when a new president started" she recalls. "In a way it was like starting a new job. But I was able to learn their styles pretty quickly and adjusted to their needs, and we became a team.  I am privileged to have worked with amazing presidents."
Her mission? Manage and organize what the president needs to go out and do the job successfully.
In "other related duties" category, she once assisted Peter Jones via telephone on caring for a newborn llama at his hobby farm.
The job was never boring, says Jill.
"I loved the challenges, the excitement, the people, the nature of the work, the fact that I was always learning."
As a proud alumna of UFV, she also served on the inaugural board of the Alumni Association in the early 2000s.