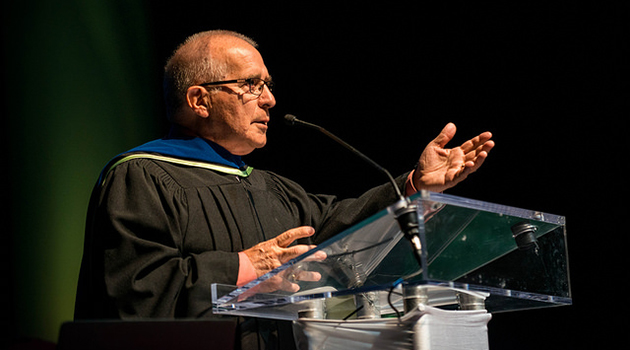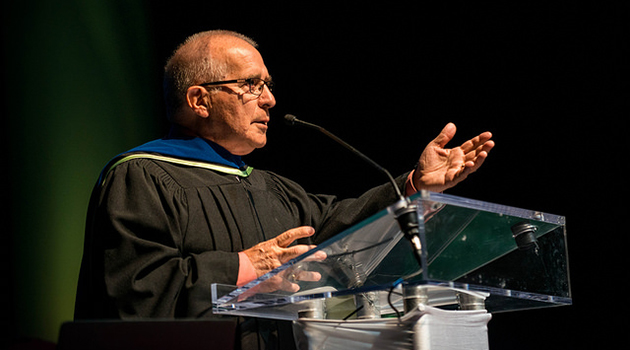 Still striving to inspire future generations, former Abbotsford mayor George Peary will reflect on a lifetime of changing lives and building communities across the world when he takes the stage as the latest UFV President's Leadership Lecture Series speaker Wed, Oct 12 at the Abbotsford campus.
A former Abbotsford mayor, city councillor, and school principal, Dr. Peary started his career in Saskatoon and Whitehorse before moving to the Fraser Valley. He has always been active in his community — no matter the geographic location — and innovative in his approach to education.
He taught business courses at UFV in Abbotsford and in Chandigarh, India and is currently principal of Dasmesh Punjabi School in Abbotsford.
Peary was recognized by UFV with an honorary Doctor of Technology degree in 2016.
"I arrived just before Fraser Valley College was created," he recalls.
"In some ways, UFV and I have walked paths that have intersected at different points over the past 40-plus years. On the runway of life, I am getting closer to takeoff, but UFV still has most of its runway ahead of it. Institutions have much longer lives than people and I hope that my commentary will be a little reassuring to those who invest an hour or so with me."
Peary's President's Leadership Lecture Series presentation begins at 4 pm in Lecture Theatre B101 on the Abbotsford campus, 33844 King Road. The event is free to the public. For more information visit the UFV event calendar.