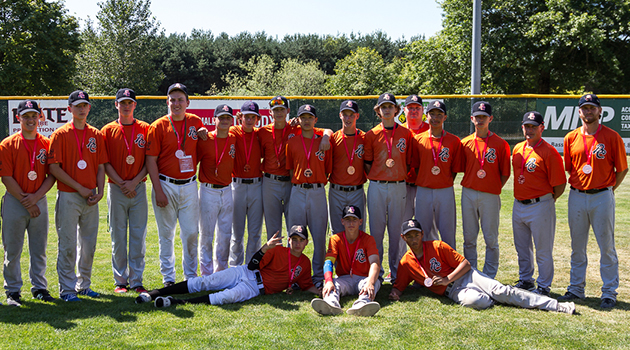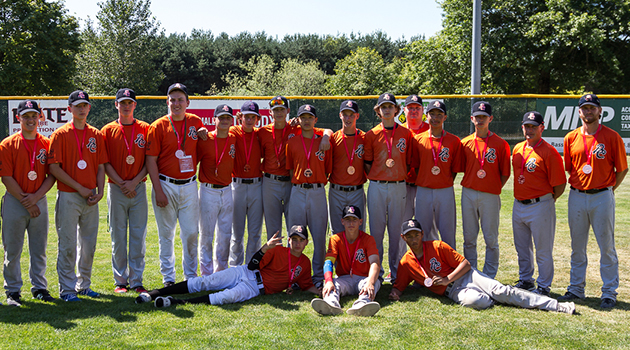 For University of the Fraser Valley kinesiology student Jordan Broatch, the BC Summer Games represented a unique opportunity.
Broatch was the head coach of the Fraser River (Zone 4) baseball team at the Games, which were held July 21-24 in Abbotsford. The 28-year-old White Rock product is no stranger to standing on the top step of the dugout – he currently serves as director of player development with the White Rock South Surrey Baseball Association, and coaches their bantam AAA team. But whereas most trips he makes with his team to are to baseball-exclusive tournaments, the multi-sport environment of the BC Games was an enjoyable change of pace.
"It was really nice to feel a part of something bigger," he said. "Usually it's a weekend here, a weekend there and you go home. You don't get as ingrained in the community of sport. But here, you're at the opening ceremonies, you see buses going here there and everywhere, and it's kind of humbling. You really see how sport brings the community together, and it was a great experience."
Broatch has been pursuing his kinesiology degree on a part-time basis at UFV – he's set to begin his fourth year in the fall – while juggling a burgeoning baseball coaching career and a personal training business (Kustom Kore Fitness in South Surrey) that he owns and operates. The former college pitcher also manages to find time to stay active as a player, suiting up for the Langley Senior Blaze.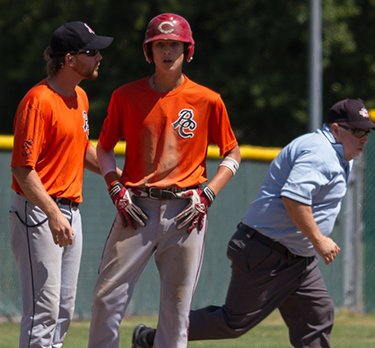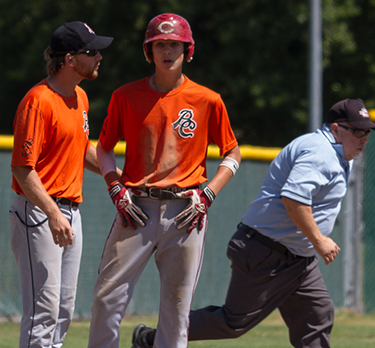 He got his introduction to coaching almost by accident. Several years back, a friend shot him a text – want to go to Vegas? Broatch responded affirmatively. Only after the dates were set and the tickets booked did his friend divulge that they would be coaching a bantam baseball team at a national showcase tournament during the trip. His assistant coach couldn't make it, so he'd added Broatch to the coaching staff.
Turned out, coaching really agreed with him.
"The best part was how the kids asked questions – you answer, they try it, it works, and they're so happy about it," Broatch recalled with a chuckle. "From there, I got opportunities, and I've enjoyed it.
"I like giving back to the community, giving kids the chance to play the game and have the opportunities I had when I was younger. You've got to make sure the great game of baseball continues to grow."
These days, despite his relative youth, Broatch is a highly experienced coach, and he guided his Fraser River squad to a strong showing at the BC Games. After going a perfect 3-0 in round-robin play, their first loss came at an inopportune time – in the semifinals, to the eventual gold medalist Vancouver-Central Coast. But Fraser River bounced back in impressive fashion to defeat the host Fraser Valley 8-5 to secure the bronze medal.
Broatch was proud of his players, both in terms of how they performed and their attitudes throughout. Some of the team's best memories, he said, were forged in the evenings, sleeping on the floor of a classroom at W.A. Fraser Middle School.
"You've got 16 players and three coaches on the floor of a classroom, sharing stories, and that's where a lot of the bonding came from," he said.
Broatch was just one of many people with UFV connections who participated in the BC Summer Games as coaches or volunteers. Wandering the venues, you might have spotted Cascades athletic director Steve Tuckwood making sure things ran smoothly in his role as a Games executive committee member; financial aid advisor Denise Tuchscherer helping coach the Fraser Valley three-on-three girls basketball squad; or members of the UFV women's basketball team handing out cookies to athletes at the opening ceremonies.
UFV was also a funding partner for the BC Summer Games, and the Abbotsford campus served as a key host site. On Thursday evening, at the start of the Games, athletes and coaches congregated on the green to get organized for their march over to Abbotsford Centre for the opening ceremony. Afterward, a provincial reception was held at the Student Union Building. Officials from several sports stayed in the Baker House residence during the Games, and the girls volleyball tournament was contested at the Envision Athletic Centre.
Broatch, for his part, thoroughly enjoyed his BC Games involvement.
"I'd recommend it to all students," he said. "If you're an athletic trainer or a nurse, just get your feet in the door. Take a six- or eight-hour shift, feel that connection to the community, and help kids exercise their right to play and have a good time."