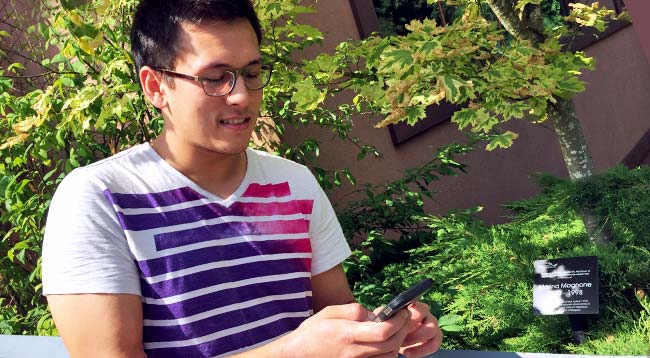 The University of the Fraser Valley is an excellent choice if you wish to get a certificate, diploma, or degree. And now, as a venue in the latest Pokémon GO gaming craze, it's also a great spot to hunt Pokémon in Abbotsford.
According to veteran gamer and graphic designer Marie Tary, UFV is teeming with the virtual creatures.
Tary, who recently installed the game on her tablet, raved at the variety of Pokémon available. "It's amazing," she says. "I just took a walk around the Abbotsford campus at lunch and I found 12 PokéStops, and two gyms. It's a high concentration and it's easy to visit PokéStops and battle gyms without walking far. And spawn rates are very good for wild Pokémon."
According to Tary, the green close to Tim Horton's is an excellent hunting ground to catch Pokémon: "I even captured two Psychic Pokémon, an Abra, and a Drowzee," she says. "These are not as common as Pidgeys or Rattatas, and they were great to see since psychic Pokémon are kind of rare. I am hoping next to snag a Pikachu."
Some of the PokéStops, where players can find Pokeballs, potions, eggs, and other useful rewards, are located at special memorial benches and trees installed throughout campus to honour students, staff, or faculty.
Pokémon GO enthusiasts can find a Google map below, based on Tary's findings, to help them plan a Pokémon hunt.
Students have been playing on campus, setting lures to catch rare Pokémon. Tary hopes to see more Pokémon GO players of all ages come to campus to create opportunities for gym battles and potentially increase the population of rare or evolved Pokémon. "It's a safe environment and it is more fun when there are more players around," she says. "I'd like to see UFV becoming a hub of activity for the game."
Getting to UFV Abby campus
In Abbotsford, the University of the Fraser Valley is located at 33844 King Road. Visitors can catch bus no. 3 or no. 12 to get to campus, or if traveling by car, come off the highway at the McCallum exit (no. 90), travel a short distance south, and turn left on King Road.