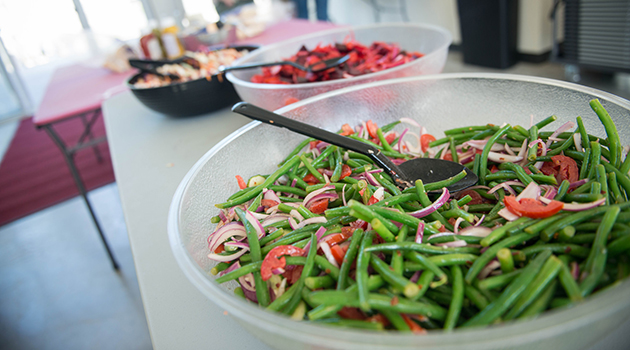 After a comprehensive selection process, Ancillary Services and the Procurement Office are pleased to announce a new Food Services provider. Effective Aug 2, Dana Hospitality will be responsible for Food Services at UFV. Dana Hospitality will be transitioning as the new Food Services provider over the next month to be fully operational for the beginning of the Fall semester.
Dana Hospitality is a proudly Canadian company with a culture rooted in culinary excellence. Since its beginning in 1989, Dana Hospitality has grown to employ more than 1,000 people in over 100 locations. Dana Hospitality maintains a focus on creating a distinctive food experience, with food that is made from scratch with fresh local ingredients.
Dana Hospitality will bring exciting new changes. Spirit Bear Coffee, a Vancouver-based, aboriginally owned and operated company will be offered in the Road Runner Café and the former Starbucks kiosk in Chilliwack. In addition to the Abbotsford Tim Horton's, a Tim Horton's Express will be set up in the Cascade's Café.
Please welcome Christopher Kluftinger, Dana Hospitality General Manager, to the team. Christopher is a certified chef de cuisine (ccc) with accreditation from the Canadian Culinary Institute, and over 30 years experience in food service establishments around the world. Chef Chris received his training in Switzerland and Germany and has worked in France, UK, USA and the Caribbean in hotels, resorts and restaurants. Among his most notable achievements, he counts having been Executive Chef at the 2012 Summer Olympics in London, England, winning numerous culinary competitions, and owning several restaurants over the years. Chef Chris is an accredited FoodSafe instructor and has taught Culinary Arts and professional cooking at colleges and schools in the Vancouver area.
Please continue to direct catering orders to catering@ufv.ca. For additional information, please visit ufv.ca/dining. Please direct any questions to Cameron Roy, Director of Ancillary Services, via email at cameron.roy@ufv.ca or by phone at local 4522.