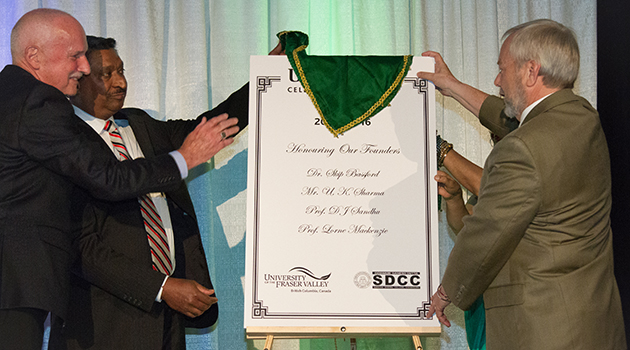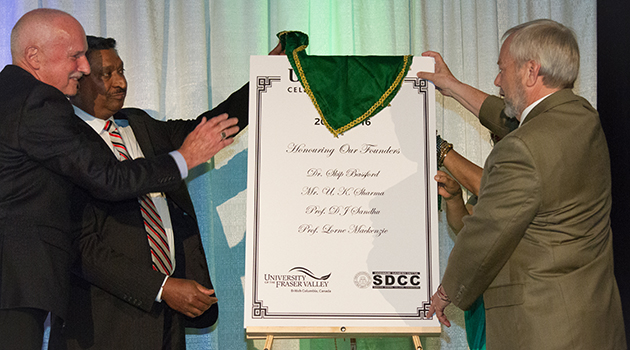 UFV's decade of success in Chandigarh, India was celebrated with a 10th anniversary gala inside the Student Union Building at the university's Abbotsford campus recently.
Staff, students, and supporters joined President Mark Evered in honouring Chandigarh's continued success as the only Canadian university campus in India.
Evered welcomed UFV professors DJ Sandhu and Lorne Mackenzie, who unveiled a founders' plaque commemorating the 10th anniversary. In addition to featuring Sandhu and Mackenzie, the plaque recognized two others equally instrumental in establishing the Chandigarh campus: former UFV President Skip Bassford, and President U.K. Sharma from UFV's partner institution in India, SD College.
"Ten years ago we brought one of Canada's finest undergraduate universities into the heart of the Punjab," Evered said.
"We are so grateful for the outstanding work of the faculty and staff who turned our vision into reality. UFV has built an education gateway between India and Canada to better prepare students for a world where success depends increasingly on international knowledge, experience, and collaboration."
Emcee Satwinder Bains plays a vital role as Director of both the Chandigarh campus and UFV's Centre for Indo-Canadian Studies.
"We've seen tremendous growth, and a new pathway of learning for a truly global education," she said.
"Although too numerous to name we have so many people who have walked with us along the route who have put their shoulders to the heavy lifting that is required to run a campus so far from the mothership with its own unique needs and successes."
Coinciding with the 10-year anniversary, UFV Chandigarh's Top 10 Alumni were announced by UFV Alumni Chair Nik Venema and Vice-Chair Nav Bains.
"One year ago, the UFV Alumni Association determined that if we were to see every alum engaged, we would need to discuss how this would work with our brothers and sisters in India," said Venema, who attended 10th anniversary celebrations in Chandigarh earlier this year.
"Today, the UFV Alumni Association is proud to have a deliberate presence in India, led by some of our good friends honoured in this impressive Top 10 selection."
For more on the Top 10, and UFV's rich history in India, read the 2016 edition of Skookum magazine: blogs.ufv.ca/skookum/.
UFV Chandigar's Top 10 Alumni include
Aditya Akre, Manager, External Relations of UFV Chandigarh
Amandeep Singh Anand, Director of Fima Jal Faucets in Chandigarh, and the inaugural chair of the Chandigarh Chapter of our Alumni Chapter
Gurneet Singh Anand, Associate Director of UFV Chandigarh
Kamal Brar, Designated Professional at MNP LLP
Gaganjot Hunjan, Trade and Investment Advisor at the India British Deputy High Commission in Bangalore.
Arvinder Jhutti, Account Manager and Banking Advisor with Royal Bank of Canada.
Shefali Joshi, GVK Group, and a research associate for the Indian School of Business.
Gaurav Khullar, Accounts Payable Specialist with FSM Management Group
Jay Pannu, co-owner of Fine Pixel Photography and Cinematography Studio
Manbeen Riar, Financial Professional and Financial Services Representative at CIBC
-30-