UFV students, faculty, and staff are pitching in to support the settlement of Syrian refugees in Canada.
The UFV Arab Club in partnership with other UFV clubs, staged a donation drive benefitting Syrian refugees arriving in Surrey over the next few months.
The club's efforts stemmed from a desire to take concrete action to help refugees.
"We always hear people saying they want to help the refugees, but aren't sure how to do so," says UFV Arab Club president Aziz Alfadel. "We decided to take steps and make it happen."
In two short weeks they collected enough items to furnish and stock at least two apartments.
"We are very happy with how successful we have been," says Alfadel. "Many different people came forward to help us, and donor from many backgrounds and many parts of the world shared their own stories with us as they brought in their donations."
He added that club members are deriving great satisfaction from helping the refugees. "Clubs generally exist to have fun, and we decided to try to take on a project that will make it possible for other people to enjoy life more and have some fun."
The Arab Club delivered a truckload of clothing and household items to the Middle Eastern Friendship Centre in Surrey on Tues, Dec 8. UFV is providing the truck to transport the items and the UFV Student Union Society provided storage space for the donations.
The UFV Arab Club consists of students from a variety of backgrounds.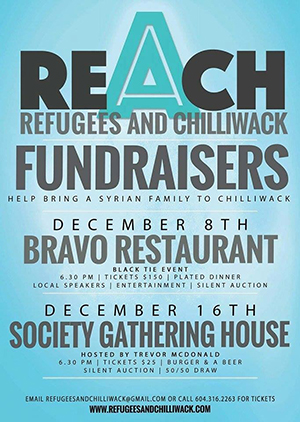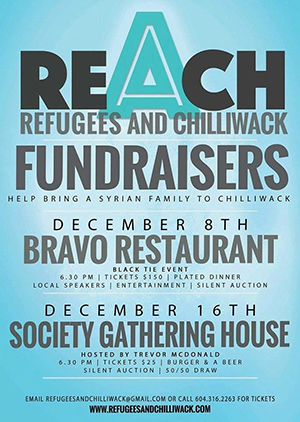 Other UFV folks are working with REaCH (Refugees and Chilliwack), a recently organized group that is aiming to raise $30,000 to sponsor a Syrian family and bring them to Chilliwack. (See the Go Fund Me page here: https://www.gofundme.com/sdbbvyrf. You can also support REaCH by attending either a pub night style dinner ($25) at Society Gathering Place on Dec 16 or a black-tie dinner at Bravo restaurant on Dec 8. More info on tickets can be found at www.refugeesandchilliwack.com. UFV has donated gift baskets for the silent auctions.