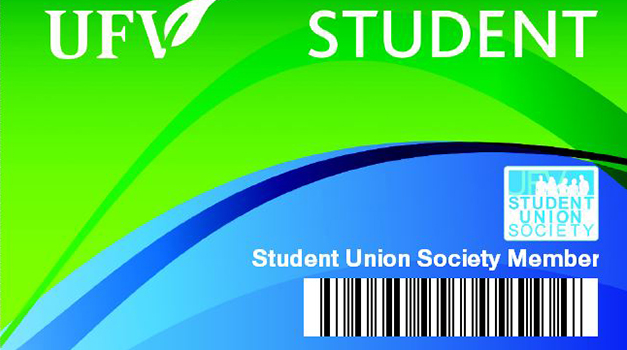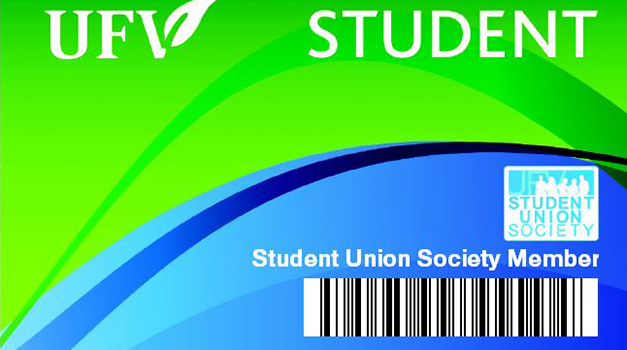 New building, new Campus Card, same great services.
A revamped Campus Card is unlocking a wide array of goods, services, and opportunities for UFV students this semester. A joint venture between the university and the UFV Student Union Society, the redesigned Campus Card is an extension of services celebrating UFV's recently unveiled Student Union Building.
The new SUS co-branded Campus Cards rolled out this September. The design features UFV green stylistically blended with SUS blue. Students can continue to use their existing card until it expires, but new students, and those replacing a card, will receive the newly minted version.
"We're delighted to be partnering with UFV on the launch of co-branded cards which reflect the integral nature of both the Student Union and the university throughout students' careers here," says SUS President Thomas Davies.
"I encourage students to pick up the new campus card in the SUB (room 1101) and to access all the fantastic services from SUS and UFV that this card provides."
UFV Executive Director of Campus Planning and Resource Development Craig Toews agrees, saying the latest Campus Card is another great example of student leadership and creativity.
"The co-brand graphic was developed by a student and the amalgamation of card services was a joint effort between UFV's Campus Card office and the Student Union Society's U-Pass Office," he says.
"The co-branded Campus Card will leverage existing services while providing a stronger unified platform for enhanced services."
The new-look Campus Card still provides the same important functions, including:
University ID
Library card
Cascade Cash
Meal plan
Print and photocopy card
Student Activity Centre membership card
Validation for the Student Union Society U-Pass program
Access to the campus shuttle between Chilliwack, Abbotsford, and Langley
Watch Sasq 'ets put his Campus Card through its paces, visit www.ufv.ca/campuscard/. Need more information, call 1-888-504-7441 ext. 6363, email CampusCard@ufv.ca, or visit www.ufv.ca/campuscard/.