For student Sasha Morneau, crossing the stage and shaking UFV President Mark Evered's hand during her convocation ceremony was much more than the end of her undergraduate degree – it was the end of a long and arduous journey.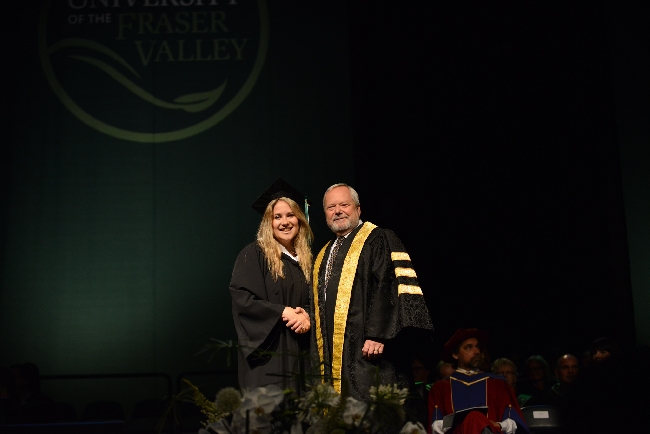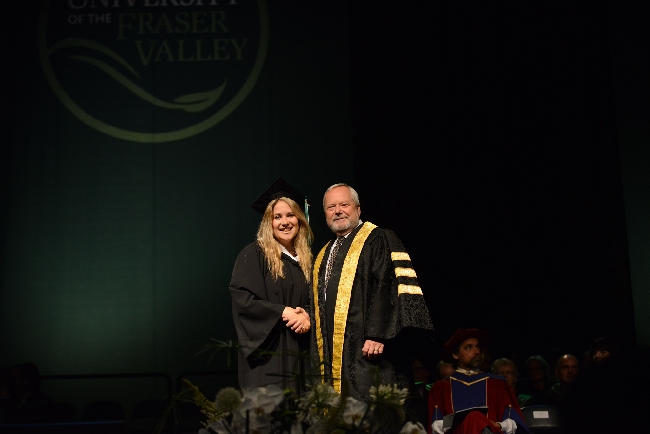 During her time at UFV, Sasha persevered through a series of hurdles that might have stopped others in their tracks. A devastating car accident left her with partial paralysis of her hands, but she worked around it, even learning to write with her opposite hand. The following year, a brain tumor, surgery, and a bout of depression nearly ended her academic dreams. Through it all, Sasha persevered and with the help of her family and her boyfriend, Brett Taylor, she completed her Bachelor of Arts degree in psychology.
And so she came to the UFV stage to celebrate the end of an eight year epic. Her name was called. She shook hands with the president. She exchanged smiles and hugs with her instructor and then walked toward the end of the stage and toward a new chapter in her life.
The parchment marking her degree was a symbol of her achievement, but not the only symbolic gesture she would experience. Waiting for Sasha at the end of the line on stage was a familiar face. A face that didn't really belong here at this moment, but a face she knew so well. Her boyfriend Brett was suddenly with her – dressed not in a convocation gown, but in a blue Hawaiian shirt, shorts, and a big smile.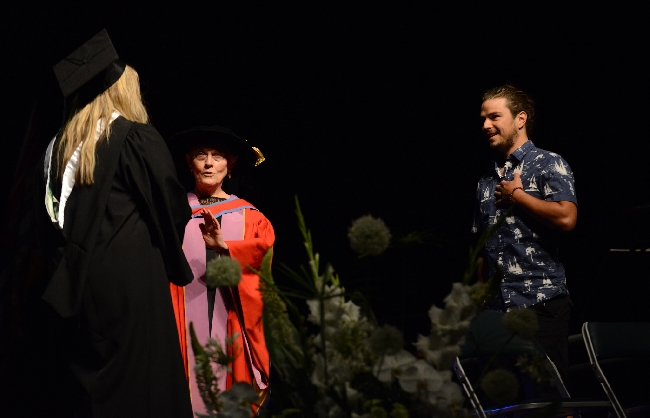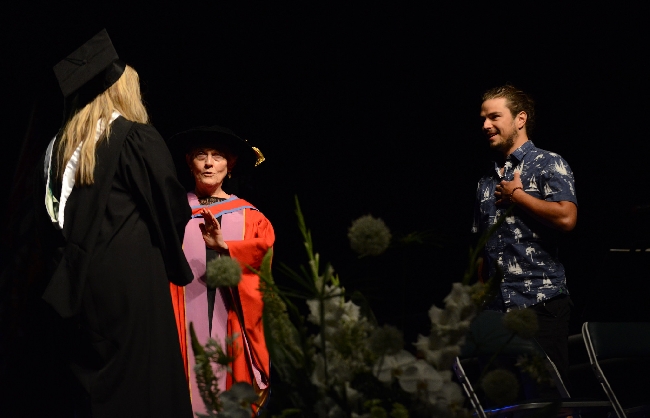 As she came across the stage he dropped to one knee and asked for her hand in marriage.
While the huge audience in the Abbotsford Centre cheered, Sasha turned the page on a new chapter in her life by saying "yes."
The convocation proposal was caught on video and soon went viral on UFV's Facebook page with over 14,000 views in two days. Global TV and CTV both ran news stories featuring the couple and the event.
The unique proposal was first in the 40 year history of UFV and was heartily approved by President Mark Evered who was the first to congratulate the couple on stage. Brett found the experience a bit surreal.
"I had all these things I wanted to say, but then I saw her and heard the crowd, and I realized I was in sensory overload, so I just got down on one knee. It was incredible! Everyone was so supportive and the love was felt all around. Thanks to UFV for letting it happen."
After catching her breath, reuniting with her family, and showing off her new ring and degree, Sasha is making plans for the next step in her education – a masters degree – and a wedding in September of 2016.