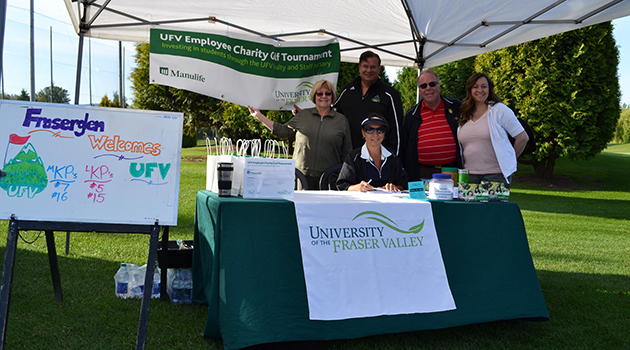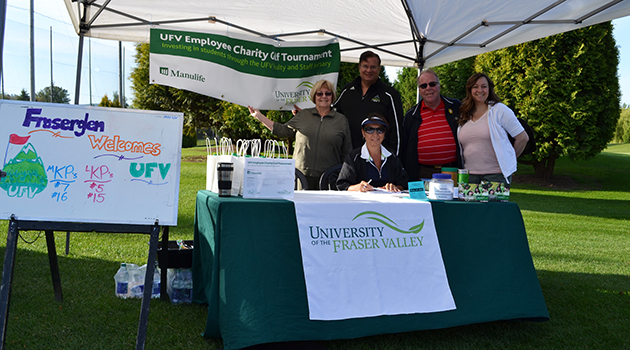 Great weather and an even better cause welcomed dozens of duffers to last weekend's UFV Employee Charity Golf Tournament at Abbotsford's Fraserglen Golf Course.
(See photos here)
Over its 35-year history, the event has become a seasonal favourite for UFV employees. Leading the charge once again was UFV's Faculty and Staff Association and Human Resources department. With Manulife signed on as a generous partner, and golfers donating, the event raised $3,413.90 for the Faculty and Staff Bursary, which helps students returning to UFV who demonstrate financial need.
The bursary's impact was relayed by two former recipients, both of whom expressed sincere appreciation during short speeches following the tournament.
One recipient who wished to remain anonymous remarked: "This past March I was chosen as the recipient of a $1,500 bursary. I was shocked. While the bursary has not covered all of my expenses, it has, along with my student loans, made it easier for me to focus on my studies. I seek to learn diligence, responsibility, empathy, assertiveness, and godliness. Thank you again for supporting me."
2015 UFV Employee Charity Golf Tournament results:
-Winners with a score of 57 (5-under par): Mike Payne, Richard Robinson, and Vince Aalten
-Most honest foursome: Lynn Kirkland-Harvey, Samantha Pattridge, Gayle Noel, Raymond Welch
-Ladies Closest to the pin: Maureen Wideman on hole #5 and Deanna Stelting on hole #15
-Men's Closest to the Pin: Rich Robinson on hole #7 and Kerry Phipps on hole #16
-Putting contest: three-way tie with four shots (20' putt, 3 balls, cumulative score) Betsy Terpsma, Debbie Dyck and DJ Sandhu. 50/50: $96, Rich Robinson
This year's great organizing team included: Debbie Dyck, Kartar Thandi, and Sheila Reimer. Other vital volunteers included retiree Grace Gould and putting contest coordinator David Leis. President Vicki Grieve offered a warm, supportive speech on behalf of the FSA.
Prize sponsors included: Bargreen Ellingson; Dafco Filtration Group; FraserGlen Golf Course; Gerry Enns Contracting; Guillevin International; Honeywell; IPAC Chemicals Ltd.; Lordco; J&W Electric; Shepell; Sodexo; The Co-operator's Vandeven Financial Solutions; Tikal Construction; UFV Alumni Association; UFV Bookstore; and University Relations, Advancement.