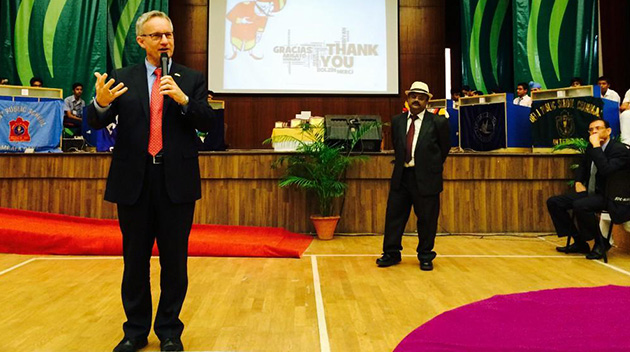 On October 17, University of the Fraser Valley President Mark Evered welcomed Canada's Minister of International Trade and MP for Abbotsford Ed Fast to UFV's campus in Chandigarh, India.
Fast, along with Canada's Minister of National Revenue Kerry-Lynne Findlay, Canada's Parliamentary Secretary to the Minister of Justice Bob Dechert, Consul General of Canada in Chandigarh, Dr. Rajani Alexander, and incoming High Commissioner of Canada in India Nadir Patel toured UFV's campus and met with students.
The group then joined an audience of 200 high school students and parents to watch the final round of QBiz Business Quiz competition, where the six top high school teams out of 160 competitors from across northern India battled for top honours.
At the end of the competition, Fast congratulated the teams, and hosted a bonus 'Canada round' quiz for the audience.
"Canada has recently adopted its first ever international education strategy," Fast said. "The goal of that strategy is to double, over the next 10 years, the number of students that come from all around the world to study in Canada. Why is this important to India, and to the state of Punab, and Chandigarh? Because India is now the second largest source of foreign students coming to Canada, just behind China.
"We welcome students from all over the world, including India. [Right now] there are close to 32,000 Indian students studying in Canada. [Some are] planning to come back to India to invest their skills in their home country, and some will stay in Canada, building our economy and building bridges of relationships between Canada and India.
"When students come from abroad to study in Canada… they become Canada's best ambassadors. I encourage you to explore a Canadian education. Canada has a reputation for having the best education in the world… Look no further than Canada, look no further than SD College and University of the Fraser Valley who are offering you an opportunity to get a head start here."
UFV's India campus is a partnership with Sanatan Dharma College Chandigarh (SDCC), an affiliate of Panjab University, for the delivery of a UFV's Canadian Bachelor of Business Administration program. The 105 students can complete all four years in Chandigarh, or they can choose to transfer to UFV Canada for their third and fourth year.
Fast's visit to UFV India was part of his six-day, three-city trade mission to India. It coincided with BC Premier Christy Clark's trade mission to India, which visited UFV's India campus on October 11.