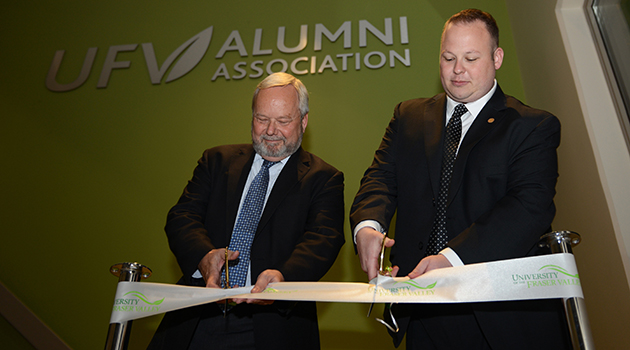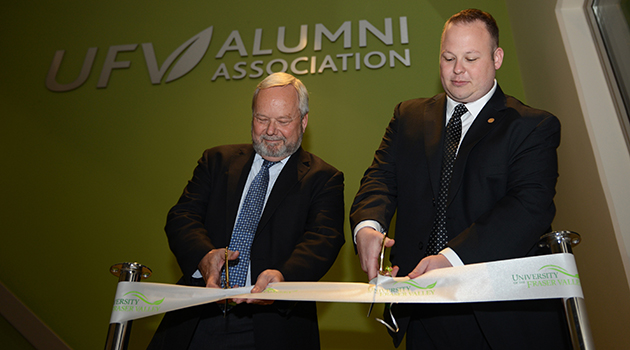 A new logo, look, awards, and board membership were unveiled when the UFV Alumni Association held its annual general meeting on Sept. 24.
In partnership with UFV University Relations, the association introduced UFV's renovated Alumni Hall near the entrance of Building B on the Abbotsford campus. The revamped hall now celebrates alumni success from floor to ceiling, featuring three flat-screen TVs highlighting exceptional UFV alumni beneath a large, green art piece peppered with alumni headshots and modern design.
(See photos here.)
A new coat of green paint along the hall's staircase leads to the UFV Alumni Association's fresh new logo, replete with a stylistic leaf growing from the acronym 'UFV'.
Nancy Armitage, UFV Alumni Engagement manager, says the new look in Alumni Hall is in many ways symbolic of the fresh direction of the Alumni Association's board of directors, under the leadership of chair Justin P. Goodrich.
"The Alumni board has met the challenge of revitalizing the association to meet the future with renewed energy and enthusiasm. It's fitting that the new logo is equally fresh and active," she says.
Goodrich agrees, saying, "We are very excited about our new look, and our new vision. The time has come to elevate the association and to further engage both alumni, and current students."
After reviewing the previous year, the board of directors bid farewell to outgoing board member Len Goerke (BA '98) after six years of service and one year as board secretary, and Stephanie Jackson (AA '11) for one year of service. They then welcomed newly elected members Ali Siemens (BA '13), Darren Whitehouse (BA '14), and Lisa McMartin (BA Crim '06).
During the Alumni Hall reception, Goodrich presented Alumni Association Chair Emeritus awards to Stacey Irwin as first and long-term chair of the Alumni Association from 2001 to 2008; Tony Luck for serving as chair from 2008 to 2013; and Jason Barnes for being immediate past chair in 2013.
The board also awarded Dr. Joanna Sheppard with an honorary life membership to the UFV Alumni Association for her exemplary dedication to UFV students, in addition to awarding Natalia Montgomery with the Alumni Volunteer of the Year award.
To learn more about the UFV Alumni Association, click here.