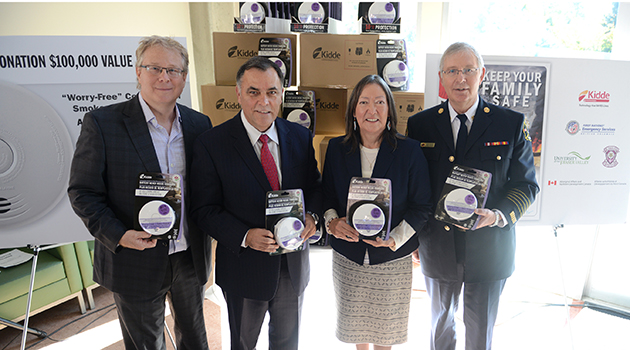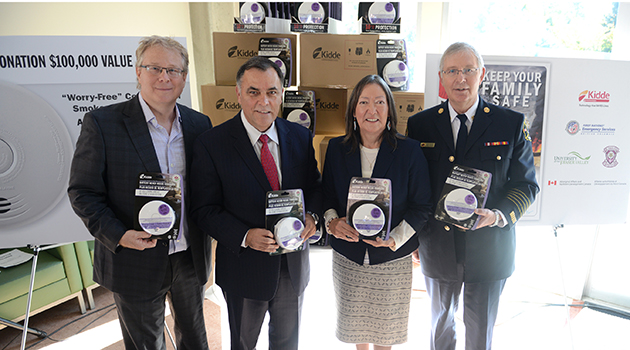 First Nations leaders joined federal and provincial government officials and fire services representatives at the University of the Fraser Valley Oct. 3 to unveil plans for a one-of-a-kind safety blitz aimed at reducing fire fatalities in reserve communities.
The campaign, announced just as Fire Prevention Week is about to take place across North America, will kick-off with a series of unique educational materials that have been created utilizing imagery and storytelling, the traditional means of First Nations teachings. Pamphlets and posters will be distributed across the province of British Columbia and form the basis of grassroots education focused on the importance of working smoke alarms.
Recent studies show that the fire death rate for residents of reserves is greater than the rest of the Canadian population.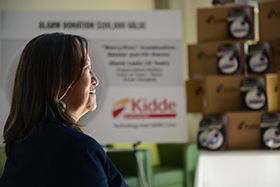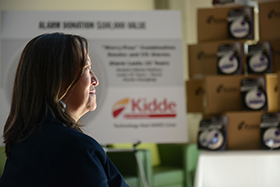 "Statistics tell us that we must continue to explore new ways to engage First Nations people in the responsibilities required to keep their families safe," says Steven Point, a Provincial Court of British Columbia judge and former Lieutenant Governor of British Columbia. "My wife Gwen and I are happy to support this campaign with our efforts and our faces in the hope we can help make a difference."
From 1975 to 1999, Steven Point served as Chief of the Skowkale First Nation. From 1994 to 1999 he served as Tribal Chair of the Stó:lō Nation. Gwen Point is an assistant professor in Social Work and Human Services at the University of the Fraser Valley. She joined the School of Social Work and Human Services in 2005. Prior to joining UFV, she was education manager for the Stó:lō Nation.
Organizers plan to evolve the campaign into a travelling Safety Fair that would see Aboriginal youth leaders and teams trained to take fire safety messages and practises onto reserves across B.C. and later, across Canada.
"We all have a role to play to BeFireSafe outside and inside the home year round which is why we support the Aboriginal Firefighters' Association of Canada BeFireSafe campaign," says the Honourable Bernard Valcourt, Minister of Aboriginal Affairs and Northern Development. "Having Aboriginal youth engage their communities on the importance of having working smoke alarms will only add to the impact and success of this initiative which is being led by First Nations, for First Nations."
Initial campaign materials were revealed that feature a white-tail doe sensing fire danger to protect her fawn, as well as a photo of Gwen Point overseeing Steven Point installing a working smoke alarm in their Chilliwack home.
As well, a combination smoke and carbon monoxide alarm donation valued at $100,000 was announced by smoke alarm leader Kidde Canada. Some 2,000 units featuring today's latest sensing technology along with 10-year batteries that never need to be changed for the life of the alarm, are being donated for installation in First Nations communities.
"Combining the efforts of governments, First Nations leaders, educational institutions as well as responsible corporations such as Kidde Canada gives me a great deal of optimism in the success of this campaign," says Darryl Plecas, MLA for Abbotsford South. "Two years ago, led by then-Justice Minister Shirley Bond and Surrey Fire Chief Len Garis, we began a working smoke alarm movement in this province that has saved numerous lives. I anticipate this program will do more of the same and continue to help keep our families safe."
A Surrey Fire Chief, past-president of the Fire Chiefs' Association of British Columbia, and UFV adjunct instructor, Len Garis, has been a driving force of the working smoke alarm movement in British Columbia.
"We know that fatalities are the consequence of people in any community not following the most rudimentary of fire safety practises," says Chief Garis. "In fact, in more than three-quarters of fire death investigations smoke alarms were either found not to be present or not working. Simply, homeowners must keep smoke alarms properly powered, never take them down if there is a false alarm from cooking, and, replace them every 10 years."
Grand Chief Stewart Phillip, President of the Union of BC Indian Chiefs and part of the First Nations Leadership Council comprised of three key BC aboriginal organizations. Grand Chief Phillip says, "It is time to renew efforts and to undertake new approaches to address the longstanding issue of fire safety in First Nations. The property damage and toll on lives is unacceptable and as such I fully support the 'By First Nations for First Nations' fire safety program."
The First Nations' Emergency Services Society of British Columbia assists aboriginal communities in developing and sustaining safer and healthier populations. Edwin Mountain, President of the First Nations Emergency Services Society, and Volunteer Fire Chief of Xaxli'p says, "In our past experience working directly on reserve to help address safety issues, we have seen positive change when we combine education materials that reflect traditional aboriginal teaching methods with discussions right at the community level. We can't understate our support for the planned Youth Engagement aspect of this campaign."