UFV Lens of Empowerment project returns with focus on women's experience in Stó:lō territory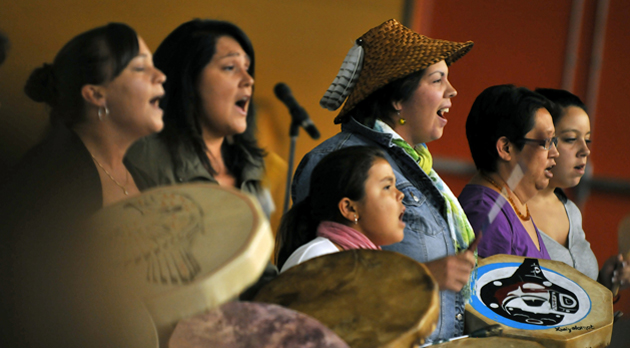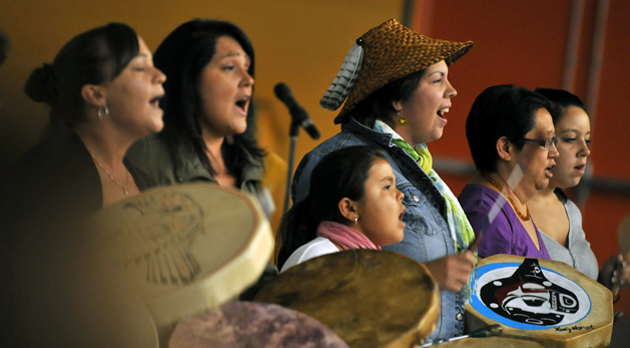 The University of the Fraser Valley is once again offering students the opportunity to learn more about Stó:lō  territory and culture through the Lens of Empowerment Project.
This time around (the second offering of this project), the Lens Project will be comprised of a focused five-course learning experience that culminates with students producing their own short videos or films. See a story on the previous version of Lens of Empowerment here.
Lens Project students will gain relevant media skills that are in demand in the workplace.
Students will take courses in video-making, storytelling, Indigenous art and community arts practice (three in the Fall 2014 semester and two in the Winter 2015 semester), for a total of 15 credits. Some of the courses will be offered in Chilliwack and others in Abbotsford.
Organizers of the project emphasize that it would be a valuable learning experience for anyone who wants to learn more about storytelling, video production, and Stó:lō culture and worldview. While current UFV students working towards a credential will make up the majority of participants, the group of courses is also open to people with established careers looking for a professional development opportunity.
In creating greater awareness of Stó:lō territory, citizenship and identity, The 2014/15 Lens Project will contribute to a larger vision of reconciliation or Xwla ye toteló:met qas ye slilekwel (towards understanding and harmony).
UFV instructor Stephanie Gould, one of the developers of the Lens Project, says these courses deliberately emphasize women's perspectives and experiences because in mainstream media, women's voices, art and stories are heard or seen less often than those of men.
"Historically," Gould states, "women are more likely to appear in the film than work behind the camera. The Lens Project is opening opportunities for new voices to emerge and new stories to be told…[and]…in almost every workplace, people need the skills to communicate effectively and creatively using new technologies."
In First Nations communities, women are often storytellers, and increasingly over the past few years, First Nations women have made strong and lasting contributions as documentary filmmakers, Gould notes.
"Stories well told have tremendous power and importance in every culture," she says. "Whether on film, in the classroom or around the campfire, they connect people, entertain and educate. The Lens Project is a unique learning experience for students who want to find their voices  for storytelling for video or performance, expand their knowledge of Stó:lō culture, and share stories of women's experience in Stó:lō territory."
The Lens Project will bring together students of all backgrounds and walks of life to develop skills and knowledge in storytelling and visual production. UFV Senior Advisor on Indigenous Affairs Shirley Hardman will collaborate with the instructors and act in an advisory capacity throughout.
"Women are mothers, teachers, aunties and mentors," says Hardman. "The stories of every woman in Stó:lō territory have an impact on nation. The telling of these stories through video-filmmaking will strengthen connections and nurture awareness for coming generations because storytelling connects us to the land, and to each other. As renowned scholar J. Edward Chamberlain reminds us in If This Is Your Land, Where Are Your Stories?, through stories we find common ground among the Us and Them that make up this land — land that is home to all of us."
In the Lens Project, students will learn video-making in a community art and cohort leaning context, and both Indigenous and non-Indigenous contemporaries will join participants to tell stories of women's experience within Stó:lō  territory along the way.
UFV Indigenous Studies assistant professor Wenona Victor notes that this collection of courses would also be a good way for non-Aboriginal people to gain an understanding of something that many Stó:lō and other Aboriginal people already have.
"It's designed to help people living here understand and relate to the area through an Indigenous lens," Victor says. "Stó:lō people generally have a sense of living in harmony with S'ólh Téméxw ('our world'); we have had thousands of years to develop a balanced and reciprocal relationship with our environment. While exploring women's identity and citizenship, participants will have the opportunity to experience and understand S'ólh Téméxw in a way that promotes sustainability and relationship building."
In her Indigenous Arts: Stories and Protocols course, she will introduce students to Indigenous protocol in relation to different kinds of artwork, including storytelling, music, dance, and carving. In other courses, students will be immersed in the art and craft of introductory video production and storytelling.
To find out more about the project and how you can be a part of it, contact Elaine Malloway of UFV Aboriginal Access at elaine.malloway@ufv.ca at 604-792-0025, local 2825, or Vicki Bolan of UFV Visual Arts at Vicki.bolan@ufv.ca or 604-854-4543.