UFV artist's painting inspired by tragic murder takes on life of its own at Street Child World Cup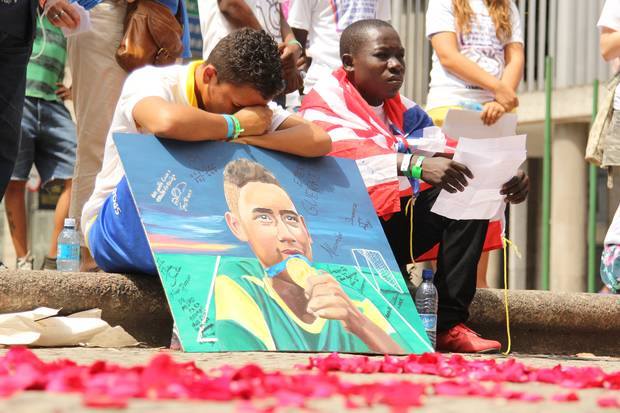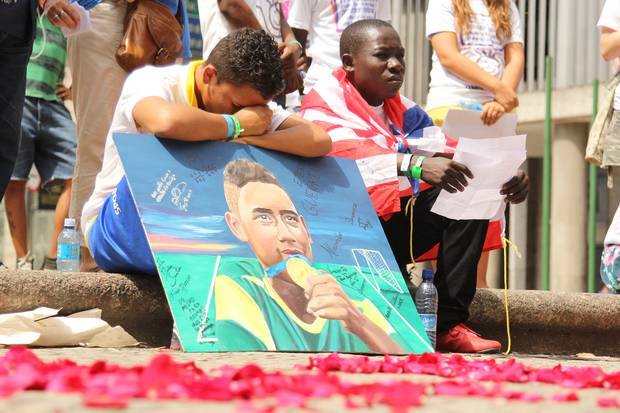 Rodrigo Kelton, a Brazilian street child, was mercilessly shot and killed by drug traffickers while travelling to visit his home city of Fortaleza. On his 14th birthday, and within feet of his mother's home, his bright future was instantly hijacked. A half a world away, his death would soon inspire a UFV visual arts student.
Focused on a better tomorrow, Rodrigo had found freedom from the grip of drugs through the help of a sheltering organization. His passion to compete in high-level soccer had secured him a spot in the upcoming Street Child World Cup, which would bring the plight of the world's 100,000 street children to the forefront.
UFV Visual Arts student Carling Jackson received word of Rodrigo's death almost 10,000 km away. As she read the email in the comfort of the classroom where she taught art to children his age, tears fell.
"I stared at a picture of this beautiful little boy with his soccer medal," she explains. "He had nothing, but he knew soccer was his way out. I just really identified with him."
Like Rodrigo, Jackson was once a star on the field. Her soccer career began at the young age of four. After years of dedication and intense training, she became a Team BC recruit.
But everything changed after a severe back injury in 2010, which rendered her unable to walk for six painful months. Soccer was her outlet, and had provided her with a U.S. college scholarship. This setback cut off her ability to let her emotions flow on the field.
In need of an escape, Jackson began taking art seriously. Artistic expression ran through the veins of her family: her grandmother was a professional artist and her father a sculptor.
"My only outlet was art because I couldn't go out on a field," Carling says. "Art let me escape into colour and emotion and create."
With her soccer dreams on hold, Jackson found employment teaching art at a private school. To gain expertise and earn a credential that would allow her to teach in public schools, Carling enrolled in UFV visual arts classes. In assigned projects, she would paint what inspired her: humanitarian work, globalization, vulnerable people, and human suffering.
Still passionately following soccer, Jackson stumbled upon a FIFA post detailing an internship opportunity with the Street Child World Cup, an organization dedicated to the rights and voice of the street children. She scored a role that leveraged her soccer savvy and artistic talent during the 10-day tournament and conference in Rio de Janeiro, Brazil this past March. She was the only Canadian volunteer among those helping to bring street children from 25 teams and 19 countries together. In soccer and art, they would campaign to challenge the negative perceptions and treatment of the world's most vulnerable.
Chris Friesen, an associate professor of visual arts who taught Carling's first UFV art classes, saw a spark in her. "She was fairly exceptional with her scope," he says. "Not thinking small… but thinking big. I even waived the prerequisites to allow her into my class because I thought she would do good things. I'm so glad I did."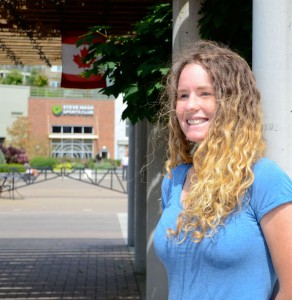 Although Jackson would miss some class time to participate in the Street Child World Cup, Friesen encouraged her to integrate the trip into the final project for her upper-level painting class.
It is while preparing for the trip that she received the email detailing Rodrigo's story. She was cut to the quick.
"A lot of these kids don't have voices," Carling says. "They are not seen, and they are not appreciated. 'Why not make him visible, why not give him a voice?' I asked myself. So I decided to paint him for my final project."
The night before her trip to Brazil, she allowed her emotion to flow on the canvas. With each brush stroke, she captured the spirit of Rodrigo.
That long evening ended with a wet canvas and a loud alarm clock a few short hours after the lights went out. The powerful message she carried through the Vancouver airport the next day did not go un-noticed. Flight attendants compassionately prioritized the safe stowage of the canvas. Even a hesitant Latin American customs official was brought to tears once understanding the piece. "Art is a way to connect and unite people," Jackson says. "It unearths people's compassion and empathy. It transfers and keeps that positivity moving."
After a safe arrival in Rio, Jackson and the rest of the Street Child World Cup team immediately began their efforts to create a safe, enjoyable atmosphere for the youth. The canvas was temporarily put on display in a chapel. As the teams of incredibly talented street children walked through the cobblestone road, the Brazilian youth saw the painting of their Rodrigo through a slit in the chapel door. "These same boys who carried their brother's coffin raced in and surrounded the painting," Carling recalls. "They said it brought them joy, peace, and hope."
From then on, the Brazilian Street Child World Cup team carried the painting like a flag, proudly bearing it everywhere they went. They each signed it along with soccer legend Bebeto, a Brazilian World Cup champion of 1994. It drew the attention of world media and became a living symbol of hope. Word has it the painting now is in the hands of Rodrigo's mother.
As for her final project submission, Jackson received incredible feedback from her peers. "You got a sense that Carling knew what she wanted to do," Friesen notes.
On her part, Jackson deeply appreciates the support she received from Friesen. "It was like having a coach in art," she says. "I have had coaches my whole life, but I have never had someone who completely 100% understood my art. I have a teacher who gets it and that's really rare."
The message of Rodrigo's painting lives on at home, with Jackson's young art students participating in fundraisers and art projects that shed light on the world-wide street child epidemic. Her class raised enough money to fund all the art supplies at the Brazilian event by campaigning outside the Vancouver Art Gallery. "All the kids painted," Jackson says. "They held signs that said 'No child should have to live on the street'. They were little ambassadors." Her students have been touched by a powerful message. One student with a learning disability completed a bright pastel piece that featured the words 'no kids can live on the street' layered over the Brazilian flag.
Jackson's dream to paint something that would change the world has become a reality. "Of the seven billion people in the world, there are more than a billion of them suffering every day," she says. "I want to paint this truth."