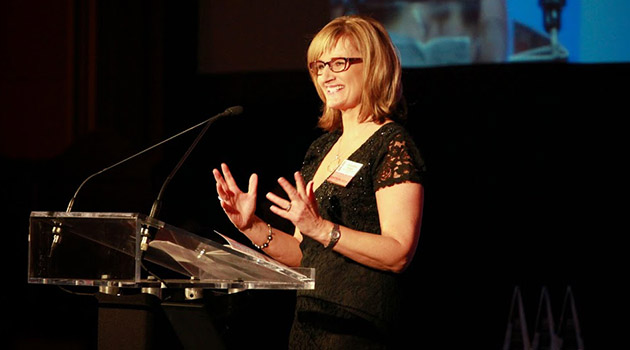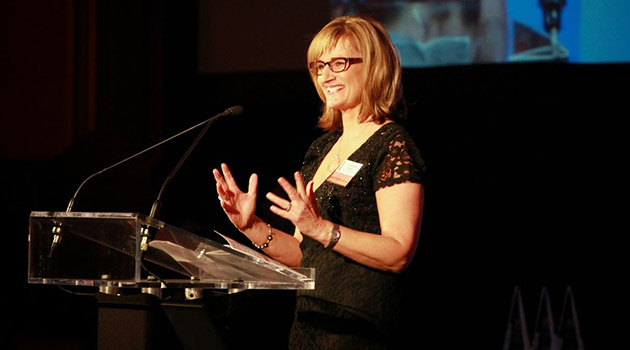 The University of the Fraser Valley's Chief Financial Officer and Vice-President Administration Jackie Hogan has received the Association of Women in Finance's 2014 PEAK Award for Excellence in the Public Sector. PEAK awards honour women who have achieved excellence in the field of finance.
"Jackie's dedicated leadership of our financial and administrative services is evident and valued throughout our university and province. We have clearly benefited from Jackie's creative solutions to complex challenges," said UFV President Mark Evered. "Jackie is infectiously passionate about her work… she inspires and provides the opportunities for career and personal growth not only for those who report to her but for students and others throughout our campuses. I am absolutely delighted Jackie has received this prestigious honour, as it is very well deserved."
Hired as an accounts payable clerk in 1989, Jackie rose through the organization to become Chief Financial Officer in 2010. Jackie is responsible for the financial leadership and management of UFV's $115 million operating budget and $1/4 billion in capital assets, on about a million square feet of classroom, laboratory, clinic and other service space on campuses in Abbotsford, Chilliwack, Mission, and Hope, as well as Chandigarh, India.
As CFO, Jackie's accomplishments include developing of a set of budgeting principles that support the university's goals and values, a shared-revenue budget model for UFV's academic and service units, and a new enterprise risk management process. In addition to managing the departments of Finance, Purchasing, Contract and Legal Services, Emergency Management and Security, Information Technology Services, and Facilities, Jackie is an integral part of the leadership, governance and management of the university. She chairs UFV's Administrative Council and the Budget Committee of Senate, serves on the Council of Deans, and is a key member of the president's executive team.
Jackie is also a recognized financial leader in the BC post-secondary sector. She chairs the Finance Group of the BC Association of Institutes and Universities; she served on the steering committee guiding and supporting the adoption of Public Sector Accounting Standards for the post-secondary sector; and she is a key member of the Ministry of Advanced Education's Administrative Services Delivery Transformation project, guiding collaborations that reduce the cost of running colleges and universities.
Jackie's was one of five awards celebrated at the annual AWF gala held in Vancouver on May 8. Jackie thanked Tim Holloway of KPMG for the award sponsorship, her family, and many of her UFV colleagues and mentors throughout her career.
"I share this award proudly with the UFV Finance team," said Jackie. " We have a terrific team of dedicated, professional, hardworking individuals.  It's great to work with this group and to mentor them in their careers and watch their growth and accomplishments.
"Special thanks to Nicole Adams, our financial reporting whiz and great colleague; to Kasey Merritt who is my right-hand and keeps me organized, grounded, and sane; and to Betty Poettcker, Director of Finance – a wonderful leader and mentor and a great finance director and friend – thank you," she added. "To be recognized for excellence in public sector finance is a tribute to the skills, knowledge and excellence of this team. This is certainly an award we will share."
Jackie is a Certified General Accountant (CGA) and holds a Bachelor of Accounting Science degree from the University of Calgary. She lives in Abbotsford with her husband, Paul, two daughters, Chloe and Sophie, and family dog, Lilo.