UFV signs agreement with Okanagan College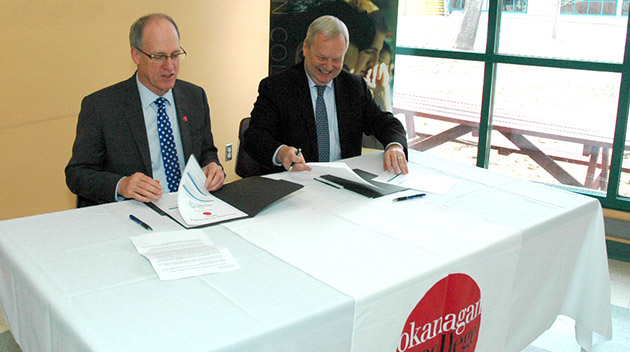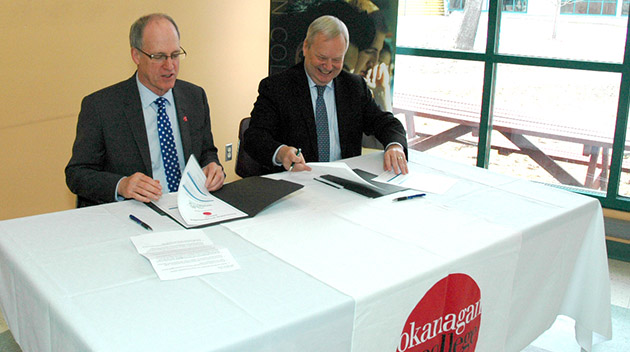 Okanagan College and the University of the Fraser Valley (UFV) will be working closely together after committing to ongoing collaboration on programming, services and other ventures that are in line with their goals and that will address the needs of the regions they serve.
UFV President and Vice-Chancellor Dr. Mark Evered joined College President Jim Hamilton today in Salmon Arm to sign a Memorandum of Understanding (MOU) on behalf of their respective organizations.
The partnership formalizes a path for the two institutions to maximize the use of their resources, collaborate on planning, share ideas and promote learning opportunities.
In particular, the two institutions will work together on opportunities associated with UFV's new British Columbia Agriculture Centre of Excellence, which is being built in Chilliwack. Those opportunities are likely to be first explored at the College's Salmon Arm campus and may take the shape of shared program planning, program delivery or transfer arrangements.
"Today's MOU signing is a first step in the right direction for Okanagan College to deepen its relationship with our colleagues at the University of the Fraser Valley," said Hamilton. "UFV is being widely recognized as a leader in agricultural program development and delivery and their knowledge and experience is something Okanagan College can benefit from. We know there is collective and mutual value when we work together and I'm pleased to be moving forward with UFV."
"We embrace this opportunity to work with Okanagan College," said Evered. "Together we can provide graduates both the theory and leading-edge practical skills needed in the increasingly complex and technology-rich world of modern agriculture and agribusiness. Increasingly, our economies and the safety and security of our food supply will depend on their leadership."
UFV is located in the communities of Abbotsford, Chilliwack, Mission, Hope and Agassiz. Okanagan College has campuses in Salmon Arm, Vernon, Kelowna and Penticton. Together, the institutions serve more than 35,000 students in the province annually.