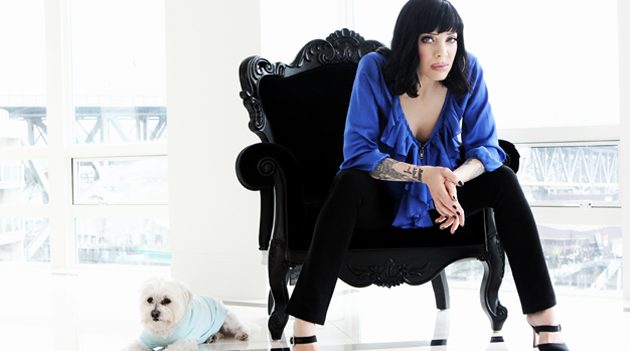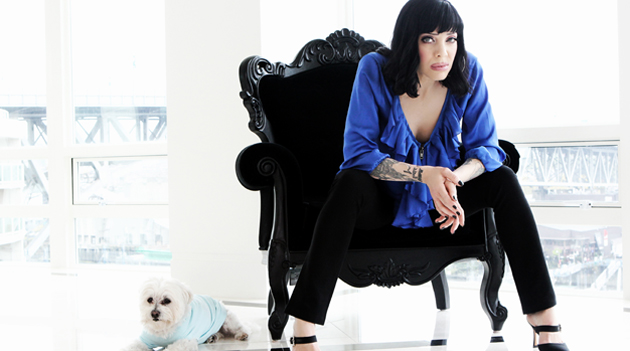 Canadian rocker, writer, activist, cancer survivor, and motivational speaker Bif Naked returns to the University of the Fraser Valley on Wed, March 26 to share more of her insights and inspirational attitude.
She will speak at 4 pm in the small gym at the UFV Envision Athletic Centre on the Abbotsford campus. Admission is free and the public is welcome. Her presentation is part of the UFV President's Leadership Lecture Series.
Naked received an honorary degree from UFV last June, and wowed the audience at an International Women's Day address presented by the UFV Faculty and Staff association last March.
This year, as UFV students head toward the crunch time of assignment deadlines and final exams, Naked is going to speak about staying positive in stressful circumstances.
"I love being in the academic environment as students and faculty are generally optimistic, intelligent people," she says. "I'll be talking to them about how to stay positive and motivated, and reminding students that they are leaders representing a demographic that everyone looks up to. They are admired by society for what they're doing to improve their lives and the world."
Naked notes that self-talk and positive self-reinforcement are key to staying motivated, and that we all need to work on boosting ourselves up rather than putting ourselves down, something she's working on as she and her editor go through the third draft of her autobiography.
"It's so interesting to go through the process of editing your own work with somebody else. I'm learning to not be so precious about some stories and to dig deeper with other ones. And I'm really noticing the self-deprecation in what I've written, seeing how easy it is to put ourselves down."
Naked also released a new single, The Only One, a celebration of love.
"People love the sentiment of the lyrics because people love love," Naked says. "No matter what kind, we're all always seeking it, whether it's the love between a mother and child, a couple, or my love of the yam-stuffed perogies from my favourite vegan restaurant."
Originally named Beth Torbert, Naked is a Juno-nominated, multi-platinum-record selling Canadian singer-songwriter, actress, television host and motivational speaker. She has toured Canada, the United States, and Europe as a headlining act and speaker.
She notes that being able to show a university degree (albeit an honorary one) to her parents allowed her to feel some validation for the non-traditional path she chose in life.
Her father passed away a few months after the ceremony, so it was especially gratifying for her that he was able to watch the video of her big moment.
Since receiving the honorary degree last June, Naked has seen a CBC documentary (More Than Skin Deep) released about her life, done a concert tour, released a new single, and worked further on her autobiography, which is now in the editing stages. The documentary included clips of her time at UFV during the honorary degree ceremony at UFV's Convocation.
"It was great to see my mother on film with me in the documentary and knowing that my father would be able to watch it. It was the greatest feeling to see them both so happy for me," recalls Naked.
Her career has been mostly about self-expression, whether through the in-your-face music over the course of five studio albums released from 1995 to 2009, or her poetry and paintings, or her new career as a motivational speaker.
"The number-one thing I have tried to do is express myself, whether it's in song, speaking, or painting," she says. "What I say is always a reflection of my perception of life. We all have the same experiences; there's nothing we do that our neighbour hasn't experienced, so we can all relate. Whatever I say or sing, someone can somehow identify with it. My songs are a creative communication form. They make these feelings and experiences accessible.
"As for my speaking career, I talk like I sing. My theme is always the same — be true to who you are. Always! I was the class clown who talked too much and that is still who I am."
The speaking career came about when she was asked to do a few talks based on her experiences as a young woman battling breast cancer. She was diagnosed with cancer in 2008 at the age of 36 and underwent a lumpectomy and chemotherapy.
She now speaks to women's organizations, cancer survivors, medical researchers, women in business, and people starting their careers.
She was born in New Delhi and adopted by American missionaries. Her early years were spent in Kentucky, The Pas, and Dauphin, Manitoba. Her family then settled in Winnipeg, where she graduated from John Taylor Collegiate and studied theatre at the University of Winnipeg.
Her success in music has not been without significant personal challenges. She has confronted a long-standing eating disorder, a heart aneurism, marriage breakups, and breast cancer. She draws on these challenges in her inspirational talks and her work with young women.
.