Backed by a legion of citizen scientists, UFV geography instructor Scott Shupe is diving into the creeks and streams of Greater Vancouver thanks to a four-year, $42,000 grant from the Earthwatch Institute via HSBC Water Programme's FreshWater Watch.
The $100 million HSBC Water Programme is a partnership with three NGOs – WWF, WaterAid, and Earthwatch – to benefit communities in need and provide information for more efficient management of vital freshwater resources. Earthwatch's involvement in the Water Programme transforms HSBC employees into citizen scientist leaders (CSLs) capable of collecting water samples from local water bodies and spreading knowledge of freshwater issues. Operating in 25 cities, FreshWater Watch research will help inform water management throughout North and South America, Europe, and Asia.
By directing the CSLs to specific streams and teaching them to properly collect water samples and observe stream conditions, Shupe helps shape a global database that will eventually allow Earthwatch to create comprehensive regional, national, and global water quality analysis. Reflecting the project's scope, organizers expect 100,000 people to contribute.
Preliminary results show nitrate and phosphate levels in North America are not nearly as high as levels found in similar regions in Asia and Europe. However, in Metro Vancouver, some stream samples showed higher values in watersheds with greater percentages of agriculture, but this doesn't apply across the rest of North America.
"The caveat is we're still early in the project," Shupe says.
"So far it's pretty exciting to be involved on a project of this scale with such incredible partners."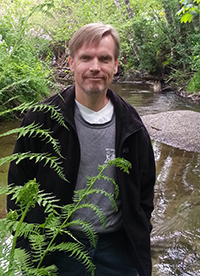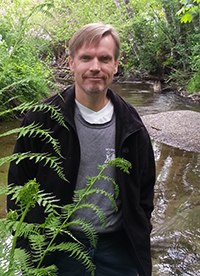 Shupe, currently on a sabbatical year from UFV to concentrate on research, spends his time either typing on his laptop or trudging around the backwoods of Greater Vancouver, often with his research assistant in tow. A couple times a year he spends a day training approximately 20 HSBC staff in sampling protocols as they transform into CSLs at Still Creek in Burnaby. The idea is that the more citizen scientists he trains, the more data he can collect from different areas all around Metro Vancouver. While research is conducted by local universities and research organizations, the program is overseen in Oxford, England by Dr. Steven Loiselle on behalf of Earthwatch, an international environmental charity dating back to 1971 that 'brings people from all walks of life together with world-class scientists to work for the good of the planet.'
Shupe's project is titled 'Watershed level analysis of stream conditions across Metro Vancouver using rapid monitoring techniques and land cover mapping', which all begins with Shupe aligning volunteers with streams near their homes.
"I don't want to send someone from North Vancouver down near the U.S. border to take samples," he says.
"It's a matter of making it work for everyone involved and still getting the data we're after,"  he explains, describing watersheds as specific drainage areas where rain either soaks up, or runs off into streams.
"Basically a bunch of bathtubs on the landscape that eventually drain into the ocean."
Next month Shupe will prepare his report for Earthwatch's North American project leader manager, outlining the program's first year while looking ahead to streams targeted for next year, and beyond.
"Right now we're at the collection stage. Like most science it takes time to collect data before you can analyze it. Part of my responsibility includes getting the message to the CSLs that it takes a bit of time to see what we've got."
Shupe's current sabbatical is his first since joining UFV in 2006 with a practical and teaching background honed in Sacramento, California.
With his focus now turned to research, Shupe is finding that as data slowly reveals itself on his Earthwatch project, so too are the CSLs behind it.
"They see how water bodies change over time, and how seasonal trends play into all aspects of a watershed. They're taking children along to collect samples, who are in turn asking their own questions, and exploring areas they might have never experienced otherwise.
"It's a great opportunity, and I look forward to seeing where it takes us."
For more, visit earthwatch.org and thewaterhub.org.