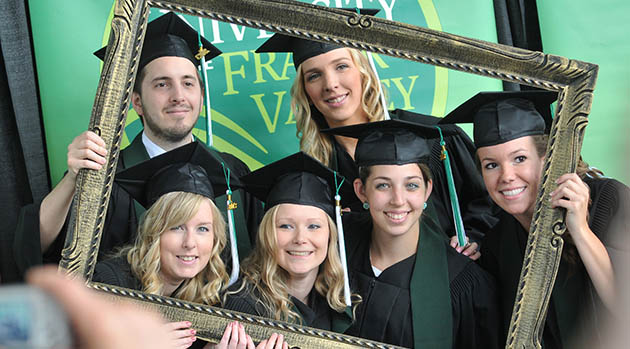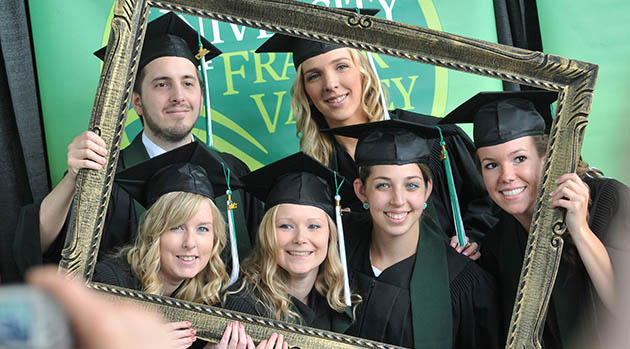 The University of the Fraser Valley sent another batch of its best and brightest out into the world on June 13 and 14, as more than 2,000 students graduated and more than half of them attended Convocation ceremonies, crossing the stage at the Abbotsford Entertainment and Sports Centre.
UFV president Mark Evered addressed the grads at all three ceremonies. He acknowledged friends, families, and guests, and welcomed the graduating students to the ranks of UFV alumni.
He said it was important to have celebrations like Convocation because they highlight the benefits that UFV graduates bring to their communities.
"We will all benefit from the knowledge, skills, critical thinking, and creativity of these graduates. Their success will make our communities, indeed our world, healthier, safer, stronger, and wealthier, not just in an economic sense but also in the richness of the social and cultural development they will inspire."
Student speakers also shared their wisdom at each of the ceremonies.
Laurie Schulz, a member of the first graduating class from the Master of Social Work degree program, reminded her fellow graduates on June 13 that education is not just about preparing to do something, but also about preparing to be someone.
"Take note, specifically on graduation day, of how many times you're asked, 'So what now? What are you are going to do?'" she said. "Some of us may have a clear, direct answer while some of us may have more complicated ones. Some of us may wince or avoid such a question because of the anxiety it causes to recognize we now need to do something. I'd invite you to consider that what we do is not the whole story. While we acknowledge the education we have achieved here and anticipate the opportunities it provides, I'd like to also challenge us to think beyond what we will now go 'do'… and deeply consider who we will go 'be' as we travel the road ahead. Today, I offer you all sincere congratulations and encourage you to take a deep breath, enjoy this moment, and celebrate by reaching deep and being great."
Multi-award winner Sol Sun was the student speaker for the College of Arts ceremony on June 14.
He spoke about the importance of finding a passion for what one pursues.
"I wasn't the best student in high school, because I didn't really care about what I was learning. Here in university, I've discovered something I am truly passionate about and am intrinsically motivated to pursue. I believe that whatever we do, we should love it and be able to talk all day long about it. Discovering something that truly ignites my interest has, without a doubt, changed the course of my life, and I really hope that you've all discovered something that you feel strongly about, and I encourage you to continue to pursue that, no matter how difficult the path may seem."
Sun is graduating with an honours major in psychology, and he was president of the Psychology Student Association. His goal is to attain a PhD and become a researcher in the field of cognitive psychology/neuroscience. He will be attending graduate school at the University of Toronto in September.
Derek Froese, who earned a Bachelor of Computer Information Systems degree and spoke at the Friday afternoon ceremony on June 13, told his fellow graduates that they should look for life lessons from those whose time left is limited. He said that people who are dying don't wish they'd worked more, made more money, or had bigger homes.
"In fact, pursuing simplicity and minimalism can decrease complication and stress," he noted, saying that those who are dying tend to regret living according to others' expectations, working too hard, not having the courage to express their feelings, and not spending more time with the people who are most important to them. "Perhaps heeding the words of those who've gone before us can provide us with a more value-laden and abundant life."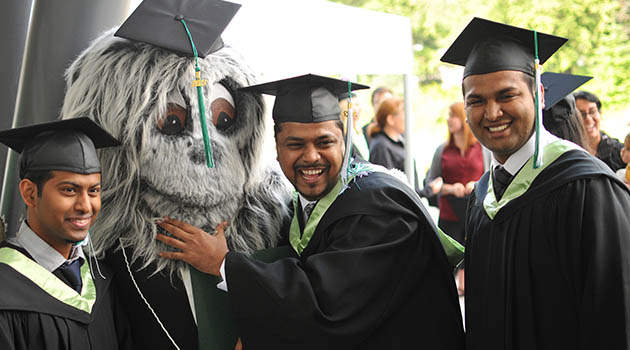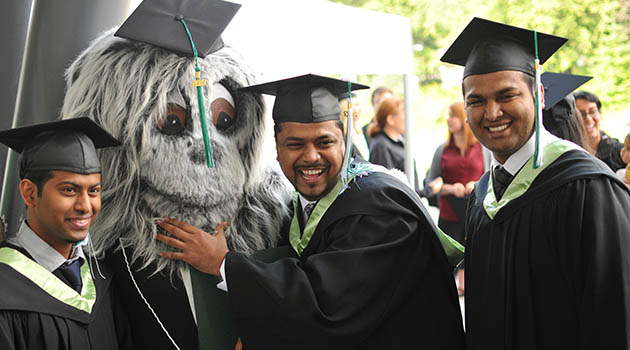 UFV recognized several award winners and conferred honorary degrees at its Convocation ceremonies.
Honorary degrees were given to rock musician, activist, and motivational speaker Bif Naked, Cree artist George Littlechild, and science educator and communicator Penny Park.
The Governor General's gold medalist for top student in a graduate degree program was Diane Keegan, a Master of Social Work graduate.
The Governor General's silver medal, for top student in a four-year bachelor's degree program, went to Sol Sun, a BA in Psychology Honours grad.
The Governor General's bronze medal, for top student in a two-year program, went to Library and Information Technology diploma grad Anna-Marie Krahn.
The Lieutenant Governor's medal recipient for outstanding student in a one-year program was Scott Klassen, a Horticulture Production and Protection certificate grad.
Dean's medals were given to the following students for high academic achievement in their respective faculties: Marin Beck (Arts —Humanities); Sol Sun (Arts — Social Sciences); Kelly McLeod (Science); Mitchell Pfau (Professional Studies); Kimberley Fox (Health Sciences).
Professor emeritus status was bestowed upon newly elected MLA for Abbotsford-South, Dr. Darryl Plecas. Plecas is retiring from UFV after 34 years serving as instructor, department head of Criminology and Criminal Justice, RCMP Senior University Research Chair, and Director, Centre for Public Safety and Criminal Justice Research at UFV.
UFV's Teaching Excellence award went to communications instructor Linda Pardy, and the Research Excellence award went to chemistry instructor Noham Weinberg.
Larry Stinson, chair of the UFV Board of Governors, was recognized for his leadership and six years of service on the board, two of them as chair.
A brand new award was bestowed upon Bachelor of Arts graduate Surjit Atwal, who persevered and earned his degree despite the challenges presented by his cerebral palsy. The Surjit Atwal Remarkable Achievement award will be given to future graduates who have also overcome obstacles during their education.
The Betty Urquhart Community Service award was given to Brittany Clough of Chilliwack for her Beautiful, You project and to Veronica Back of Mission, for her work with the New Heights Church's Street Hope outreach lunch and dinner program.
-30-