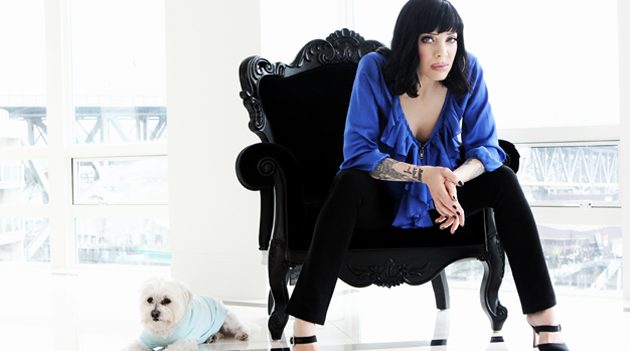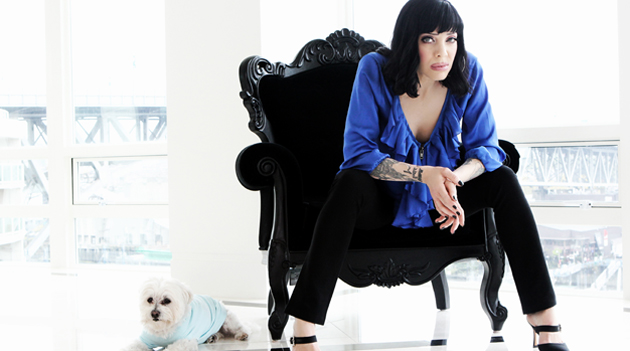 Dr. Mark Evered had a surprise for Canadian rocker and motivational speaker Bif Naked when she visited the University of the Fraser Valley on International Women's Day on March 8.
Naked, who was there to speak at a union-sponsored event, met with UFV president Evered before her talk and he asked her if she would accept an honorary doctorate from the university this June.
He didn't have to ask twice.
"I never hesitated. It was such a thrill, and so humbling, to be recognized in that way," says Naked.
Naked will receive her honorary degree at one of three Convocation ceremonies planned for UFV this spring. She will attend the ceremony for the Faculty of Access and Open Studies and the Faculty of Professional Studies on the afternoon of Thurs, June 13, starting at 1:30 pm. The public is welcome to attend this free ceremony, which will be held at the Abbotsford Entertainment and Sports Centre.
Originally named Beth Torbert, Naked is a Juno-nominated, multi-platinum-record selling Canadian singer-songwriter, actress, television host and motivational speaker. She has toured Canada, the United States, and Europe as a headlining act and speaker
She notes that she can finally show a university degree (albeit an honorary one) to her parents and feel some validation for the non-traditional path she chose in life.
"I was enrolled in performing arts studies in Manitoba before my music career took off. My parents have always wished that I'd continued my studies. Being recognized in this way will help explain better to them what my life's work has been about."
Mostly, it's been about self-expression, whether through the in-your-face music over the course of five studio albums released from 1995 to 2009, or her poetry and paintings, or her new career as a motivational speaker.
"The number-one thing I have tried to do is express myself, whether it's in song, speaking, or painting," she says. "What I say is always a reflection of my perception of life. We all have the same experiences; there's nothing we do that our neighbour hasn't experienced, so we can all relate. Whatever I say or sing, someone can somehow identify with it. My songs are a creative communication form. They make these feelings and experiences accessible.
"As for my speaking career, I talk like I sing. My theme is always the same — be true to who you are. Always! I was the class clown who talked too much and that is still who I am."
The speaking career came about when she was asked to do a few talks based on her experiences as a young woman battling breast cancer. She was diagnosed with cancer in 2008 at the age of 36 and underwent a lumpectomy an ovariectoomy, radiation, and chemotherapy. She also underwent heart surgery in 2012.
She now speaks to women's organizations, cancer survivors, medical researchers, women in business, and people starting their careers.
To say breast cancer changed her life would be an understatement.
"It changed my life completely! If it hadn't happened I wouldn't have been pulled off my tour and the general crazy train life I was leading, on the road all the time, hosting two martial arts shows. If I hadn't had to go into cancer treatment, I would never have discovered how much I love volunteering in the health care system, working with other people with cancer."
Naked calls herself a 'rookie greeter' in the cancer treatment context.
"I like working with newly diagnosed people. I'm a bit of a science geek, so I can provide medical translation and help explain when they don't understand what their oncologist is telling them. There is a real need for discourse about this disease. People feel a lot of shame about being ill. Our society holds up health, youth, and beauty as the ideal. I couldn't take it! Nobody should be ashamed to ask for help. That's what drives me to be the one to talk to people in the waiting room!"
While she was in treatment for cancer, Naked took part in a clinical trial of 100 women who did exercise while undergoing chemotherapy. She made many good friends in the process and, after years in the male-dominated world of rock music, came to really value the friendship and camaraderie of women.
Naked's honorary degree will be in recognition of her outstanding contribution to the performing arts, her courage in dealing with a number of personal challenges, and especially for her dedicated, inspirational, and life-changing work with young women.
She was born in New Delhi and adopted by American missionaries. Her early years were spent in Kentucky, The Pas, and Dauphin, Manitoba. Her family then settled in Winnipeg, where she graduated from John Taylor Collegiate and studied theatre at the University of Winnipeg.
Her success in music has not been without significant personal challenges. She has confronted a long-standing eating disorder, a heart aneurism, two marriage breakups, and breast cancer. She draws on these challenges in her inspirational talks and her work with young women.
Naked is currently in the studio recording new music, planning for the release of a memoir, working on a new book, and continuing to work on her paintings. She is mourning the recent loss of her long-time canine companion Nicklas.
As for the honorary doctorate coming her way?
"It's kind of overwhelming. I am so grateful all the time, for my health, my parents, where we live… Just when you think it can't get any more magical, life always does! This is such a surprise, and such a gift."
See photos from Bif Naked's March 8 International Women's Day appearance at the University of the Fraser Valley here: http://goo.gl/Zzw9q .
–          30-