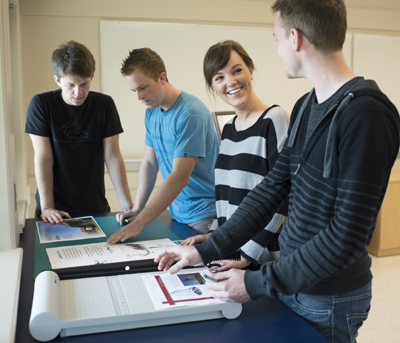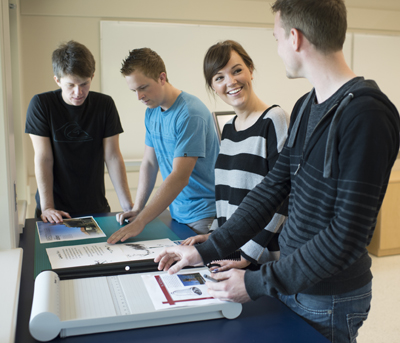 Everywhere you look these days you are surrounded by images and messages designed to inspire and influence you.
Good visual communication is a powerful tool that is used to convince and persuade you, whether it's to buy a certain product, visit a website, attend an event or endorse a political belief.
Behind the packaging, posters, ads, websites, apps and logos is the work of the professional graphic designer. UFV's Graphic and Digital Design (GDD) program, up and running since September 2012, is aimed at producing graphic designers who are ready to create visual communication in all media platforms — print, digital, interactive, environmental and social.
"We are a brand new program and the only graphic design program in the Fraser Valley that offers a comprehensive introduction to the creative industry," says Karin Jager, GDD program head.
A $500,000 donation in 2012 from the City of Mission helped to renovate the Mission campus to accommodate the Graphic + Digital Design program, with four specially designed classrooms, labs, and studios that are adaptable to the changing industry. The donation also funded new computer equipment, software, and network setup. Students in the program work with Adobe Creative Suite on a Mac system.
"We're incredibly thankful for the financial support from the district," says Jager. "We've been able to develop sustainable labs based on industry standards."
Located at UFV's Mission campus nestled in the foothills above Fraser River in the Heritage Park Centre, the program offers a Macintosh studio environment and instructors who are creative professionals working in the creative industry. UFV is recruiting for its fall intake of graphic design students and is inviting the community to the Mission campus to introduce UFV's graphic design programs, showcase student work and participate in a workshop on how to prepare an entrance portfolio.
The Graphic + Digital Design information session and portfolio workshop is being held on Thursday February 7, from 6 to 9 pm at the Mission campus at Heritage Park Centre.
The evening will begin at 6 pm with an introduction to careers in the creative industry and information about the Graphic and Digital Design diploma as well as the graphic design minor and extended minor options within the Bachelor of Fine Arts degree. A portfolio workshop will follow at 7:30 pm that will cover how to put an entrance portfolio together with instructors offering expertise on what a successful portfolio looks like. This is a hands-on workshop where attendees are invited to share their work to receive constructive feedback.
"The info session and portfolio workshop will introduce the creative industry and UFV's graphic and digital design program options, as well as provide information on how to apply," says Jager.
It's open to the public but it will be of most interest to high-school students looking to learn about design or anyone interested in developing their skills for a career in the creative industry,  Jager explains.
Although this is the first time the Graphic and Digital Design department has held an information session, everyone in the program is excited at the prospect of inspiring potential students. Anyone interested in an art and design career is welcome attend!
For additional information visit: www.ufv.ca/graphics
To see student work and GDD news, visit DESIGNmission, the program's new blog: http://blogs.ufv.ca/graphicdesign/